Regular price
Sale price
$119.99
Unit price
per
Sale
Sold out
Purchase Notes

1>Before purchase, please make sure your laptop's USB-C port supports Power Delivery, DisplayPort, and Data transfer, you can easily find port details specifications on the laptop's user manual, or consult the seller with your exact laptop model.

2>This docking station with 2 HDMI port only can work for USB C Windows laptops, not for macOS!
Compatibility

TOBENONE UDS018 laptop docking station dual monitor is specially designed for Windows laptops

Compatible Laptops(Not a full list):

Dell: Dell New XPS 15 i7 64GB 2TB SSD/XPS 15 9570 (Intel 8th Gen CPU)/9550/ 9560; Dell XPS 13 9380/ 9370/ 9365/ 9360/ 9350/ 9300/ 7390 2-in-1/ 7390; Dell XPS 12 2-in-1 9250; Dell Precision 7750/7730/7720/7520/7510/5590/5510; Dell Latitude 7280/5580/5490/5480/5290/5285; Dell Latitude E7490/E7480/ E7470/E7370/13 E7370L/13 7000; Latitude 5310 2-in-1/Latitude 14 2-in-1 3400; Dell Alienware 15 R3/G7 15 Gaming 7588/G5 15 Gaming 5587/13 R3; Inspiron 15 2-in-1 7569/13 2-in-1 7389/13 2-in-1 7378

HP: HP Specter x369/Spectre x360 13t/15/15t; Spectre Laptop 13-af001TU/Spectre Folio (13t-ak000cto); Elitebook x360 1030 G3/Elitebook 840 G5 series/Elitebook 830 G6/ 2018 HP Elitebook 800 G4/ Elitebook 745 G6/Elitebook X2; Envy Geforce mx250/ Envy x360 Laptop (15z-ds100)/ENVY 13 (13-ad000,13-ad100) Series; Zbook 17 G4/Zbook 16 G6/Z book 15u G3/Zbook studio z5; HP Probook 440 G7/ ProBook 450 G7; HP Chromebook-14-db0030nr/HP Chromebook 14A G5

Lenovo: Lenovo Thinkpad T590/Lenovo ThinkPad L480/Lenovo Yoga 940-14IIL / Yoga 930/ Yoga 920/ Yoga 910/ Yoga 900-13ISK/ Yoga 730/ Yoga 720-13IKB/ Lenovo Yoga 720/ Yoga 370/ 3rd generation Thinkpad Yoga/ Yoga C930 / Yoga c940/ Yoga C740-15IML/ Yoga 7i / Yoga15 Ultrabook Pro ; Thinkpad T490/ Thinkpad T490s/ Thinkpad T470/ Thinkpad T470s/ Thinkpad P72/ Thinkpad X1 Carbon (2019 model) / Thinkpad Carbon X1 Gen6/ ThinkPad X1 Extreme

Asus: Ling Yao 3/ Ling Yao 3PRO/ Ling Yao X Series/ 13'' Zenbook/ UX330UA; Zenbook ux434f/ Zenbook flip ux370u/ ZenBook Flip 14 UX461UN-DS74T/ TUF Gaming A15 Gaming Laptop/ Zephyrus G14/ Rog GX501

Surface: Surface Pro 7/Surface Laptop 4 / Surface Laptop 3/ Surface Book 2/ Surface Go/ Surface Pro X

Acer: Acer Aspire 5 2019/D17w3 Aspire c24-865/Swift 1 laptop/Swift 7 sf714-52t-75r6 laptop
Description

Up to 13 Powerful Multi-function Ports: You could use TOBENONE docking station USB C to expand more possibility of ports making work easier and more effective. There are up to 13 ports to connect all devices. It's able to connect up to 7 USB devices (printer, scanner, keyboard, mouse, camera, etc), two monitors, and the 3.5mm audio hearphoneµphone, wired ethernet, and so on. Just one USB-C cable to the Windows computer, and everything works.

Support Dual HD Monitors: This TOBENONE universal docking station for laptop supports connection with 2 monitors with HDMI or DisplayPort. You can mirror or extend laptop screens to external large screens(an HDTV, monitor, or projector) to present dual HD images. Gives you the expansive workspace and flexibility to tackle any task such as spreadsheets, coding, writing, research, etc.

Effortless Data Transfer: This TOBENONE USB C docking station dual monitor is built in 4*USB3.0 + 2* USB 2.0+ 1*USB C Ports for all of your USB devices (keyboard, mouse, U disk, hard driver...). It support transfer kinds of data at the same time, allowing you to easily achieve stable and efficient data transfer up to 5Gbps. The USB 2.0 ports is perfect to connect the keyboard, mouse, or other low-rate USB A devices without any lag. (Note: The front USB-C port supports data transfer only, NOT display)

65W Power Supply Included: This TOBENONE USB-C docking station support power delivery 3.0 technology which allows charging your laptop and the dock while connected to multiple devices. So all devices can run more stable. And the 65W power supply included allows you to put your laptop power adapter on your bag for travel.

Space and Wire Management: The TOBENONE dual monitor docking station's vertical design takes up so little space allowing you to have more desk space to work. It also helps keep wires more organized. The 3.5mm audio output and 3 USB inputs are located in the front of the compact dock for easy access. Other devices plug into the back making your table very neat. Say goodbye to a cluttered desk!

Strong Compatibility: 1>This TOBENONE Typc c docking station is designed for Windows, not for macOS!!! 2>Please ensure your laptop's USB Type-C port supports Display before you purchase this docking stations. ). Only if your laptop's USB C port supports Data transfer & Video Display & PD charging, you can use the full functions of our docking station.

Stable High-speed Ethernet & Audio Ports: The TOBENONE USB C dual monitor docking station has a Gigabit Ethernet port which provides faster data transfers and better security than most Wi-Fi connections. Just plug the ethernet cable into the USB C hub, you will enjoy an ultra-fast surfing feeling. Supports max 1000Mbps, backward compatible with 100Mbps/10Mbps. And it has audio ports for your headphones/microphone/speakers!

100% Plug-and-Play: This TOBENONE laptop docking station with 2 hdmi ports is plug-and-play, no drivers/software is required. The setup is pretty quick and simple. Just one USB-C cable to your laptop's full-featured USB C port and everything is ready to go.

What's in the Box: The inside of the TOBENONE USB C dual monitor docking station's package includes the 13-in-1 USB C Docking Station, USB-C cable, and 65W power adapter.

Free 24-Months Warranty: We provide 24-month Warranty and customer online service for our TOBENONE USB C charging dock. Whenever you met any questions, our specialist technical team does our best to offer you a proper solution and make you satisfied.
Specifications

MODEL NUMBER: UDS018S

DRIVERS

Plug and play, no driver needed.

FEATURES

Front:

1 x Working indicator light

1 x 3.5mm Audio/Microphone


2 x USB 3.0: Data transfer up to 5Gbps, 5V@0.9A


1 x USB-C: Data transfer up to 5 Gbps, only support data transmit


Back:

2 x USB 2.0:480Mbps, special for mouse and keyboard


2 x USB 3.0: Data transfer up to 5Gbps, 5V@0.9A

1 x DP: Resolution up to 4K@60Hz on DP 1.4


1 x HDMI 1: Resolution up to 4K@60Hz on DP 1.4


1 x HDMI 2: Resolution up to 1080p@60Hz

1 x RJ45 Gigabit Ethernet: 10/100/1000Mbps


1 x Host: Connect your USB-C laptop


1 x USB-C PD 3.0: Connect the attached 65w power supply


DIMENSIONS & WEIGHT

4.9 x 2.9 x 2.5 inches, 1.5 pounds

QUICK GUIDE

PACKAGE INCLUDES

1 x UDS018S docking station

1 x 3.3ft USB-C cable

1 x 65W power supply

1 x user manual

GUARANTEE

2 Year Warranty
FAQ

Q: does this USB C docking station require a download and install any driver or software? or plug and play?

A: Hello, this laptop docking station is plug and play, no driver needed.

Q: due to my work, i need to connect a lot of USB devices, someone recommend this universal dock station?

A: This laptop docking station dual monitor provides up to 7 USB connectors(4*USB 3.0, 2*USB 2.0, 1*USB C) enough for a keyboard, printer, scanner, webcam, external hard drive, and any other peripherals you may need.

Q: How many watts does the power adapter coming with the usb-c docking station supply to the laptop for charging?

A: Hello, this dock station is coming with a 65W power adapter. It will stably supply power to both the dock and your laptop. Generally, the dock consumes about 5-15W of power and can charge a laptop about 50-60W.
Any further questions about the laptop dock with 2 HDMI ports, please contact our support team via support@tobenone.com 
Troubleshooting

If you have any questions, please let us know via support@tobenone.com.

1. Does this 2 hdmi docking station compatible with your laptop?

Please ensure your Windows laptop with full feature USB C or thunderbolt 3/4 ports. Only if your laptop's USB C port supports Data transfer & Video Display & PD charging, you can use the full functions of our laptop docking station dual monitor.

2. Why there is no display output when I connect the monitors via the HDMI or DP port of this type c docking station?

1> Pls make sure your Windows laptop's USB C port supports video output

2> Pls use the standard cable(HDMI to HDMI/DP/VGA cable and DP to DP/HDMI/VGA cable)

3> Pls attach the laptop's power supply to the HDMI docking station's PD port to ensure sufficient power supply from the computer docking station.

4> Pls confirm the connection is correct. You can follow the below step to have a try:

remove all cables--reboot the laptop--connect the dock and the laptop--connect the power supply--attach others devices

3. Why can't my Mac laptop extend the display screen to the monitors?

This laptop charging station is designed for Windows, not for macOS!!!

4. Why my dell laptop will report that "the hub offers it 57w or so of charging power, The PC threatens reduced performance?

If your laptop owns an AC adapter, you'd better use the original charger directly connect to the laptop to charge, because it will provide the fastest charge speed and get the best performance possible from your PC.
30-Day Returns • 2-Year Warranty • Free US Shipping
Share
View full details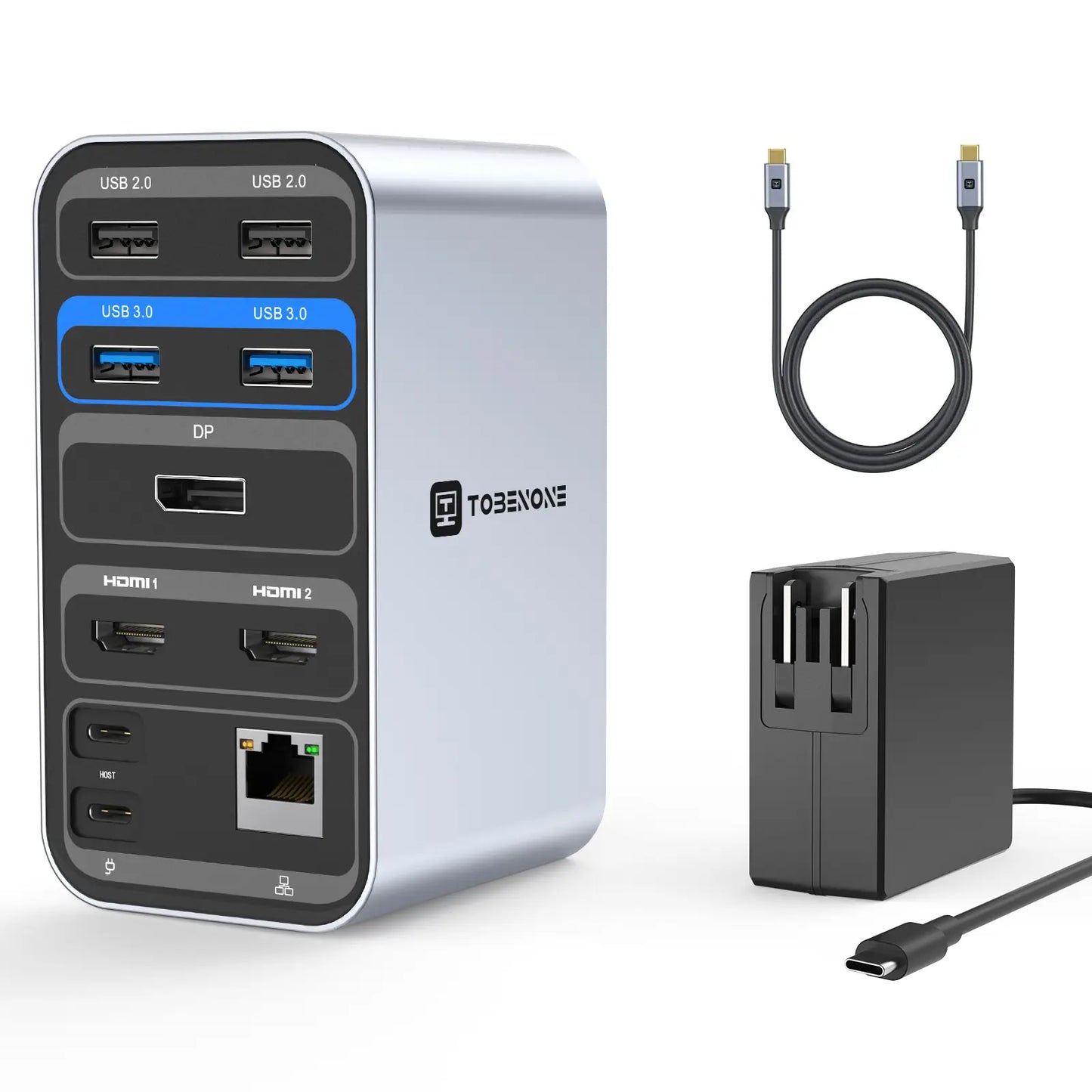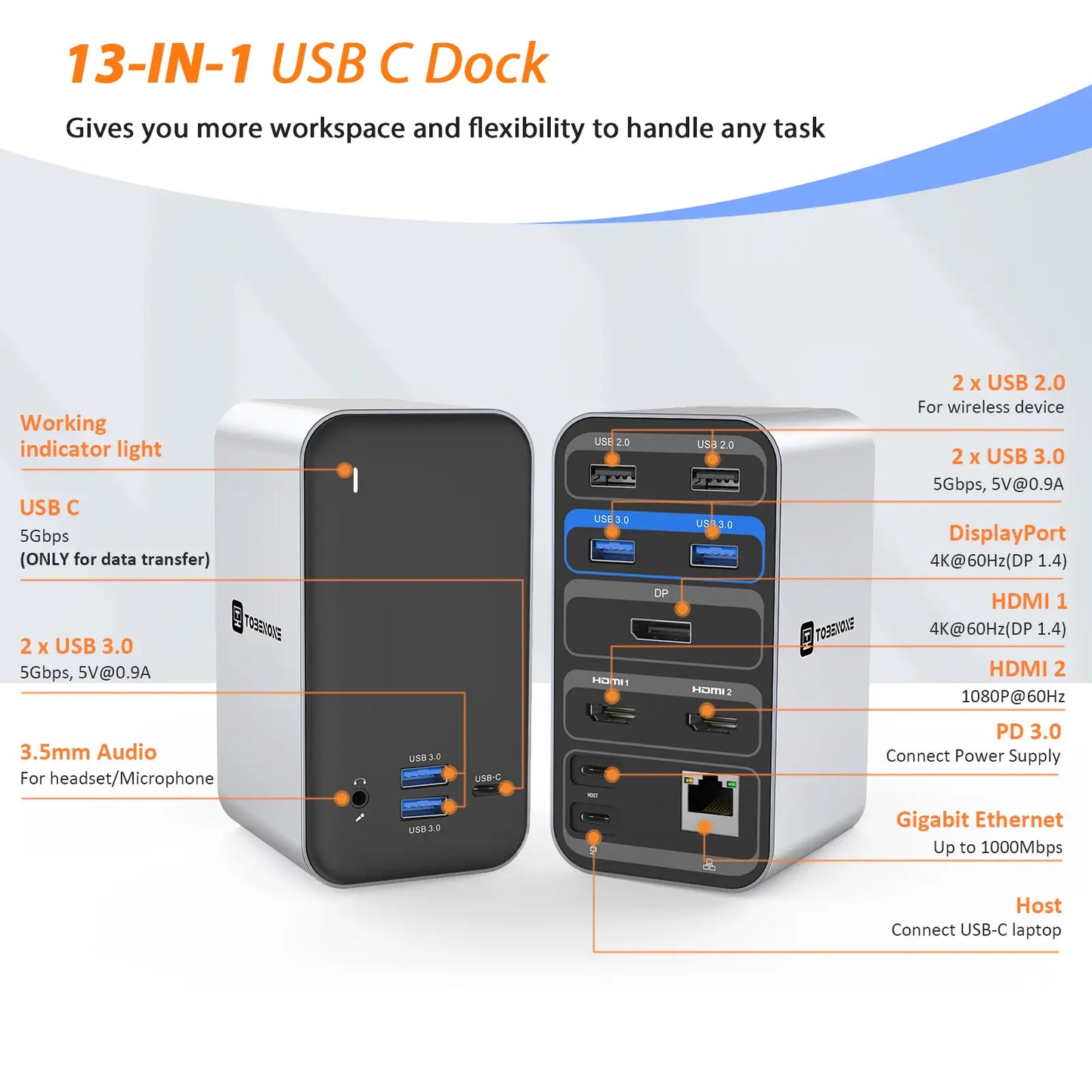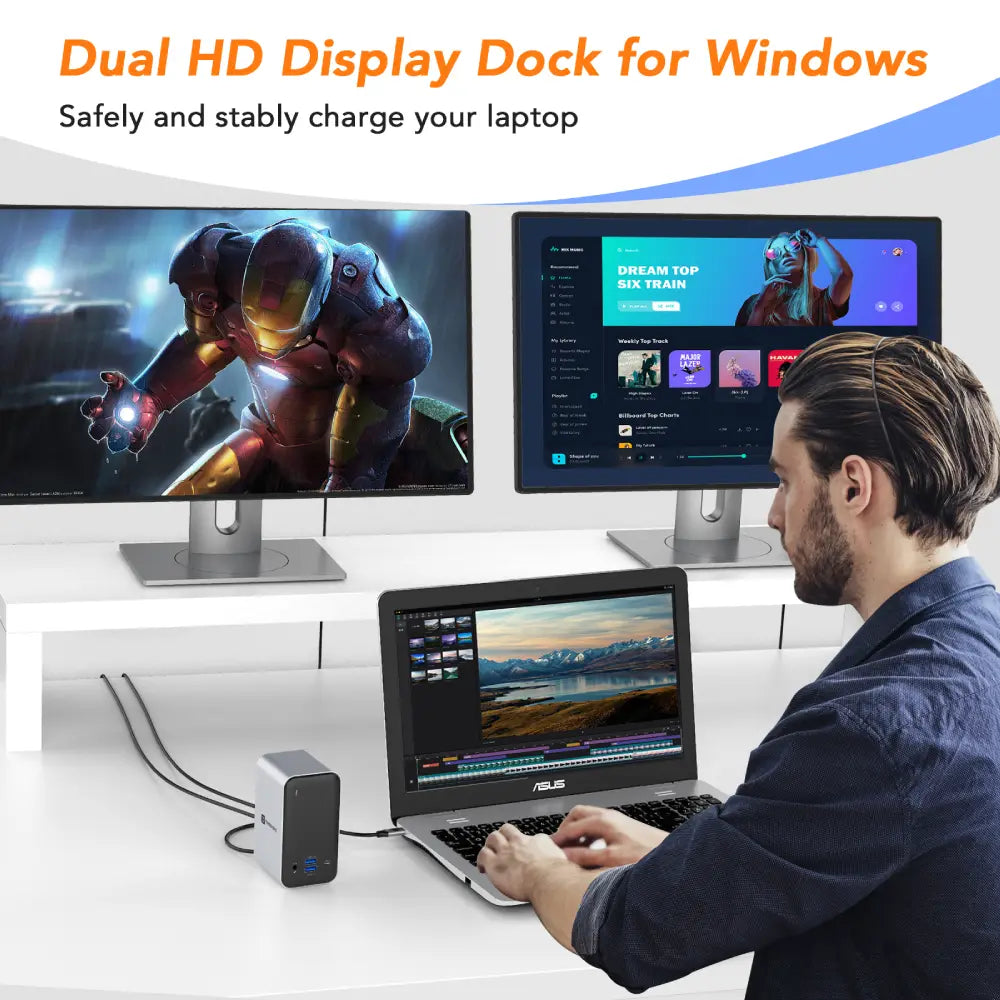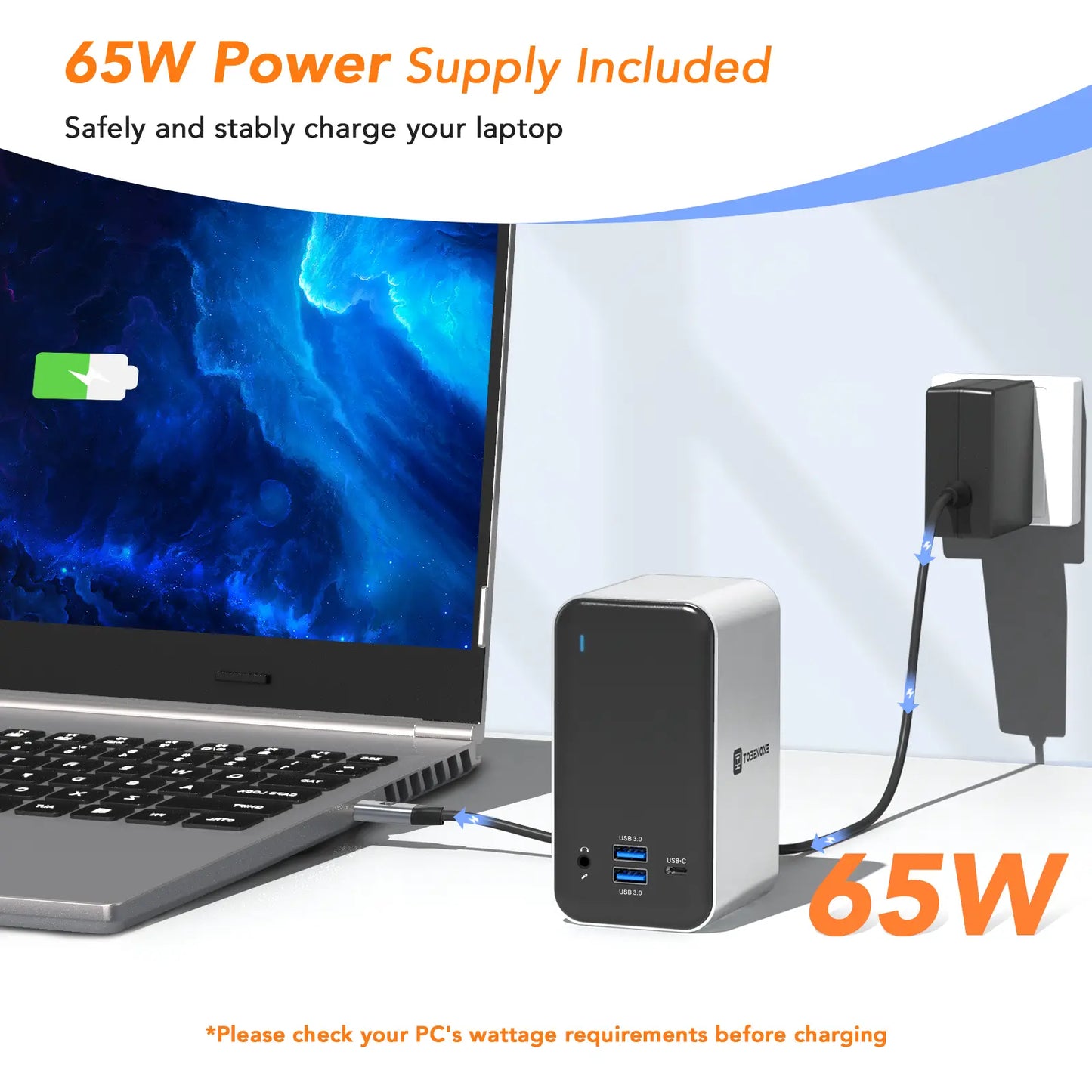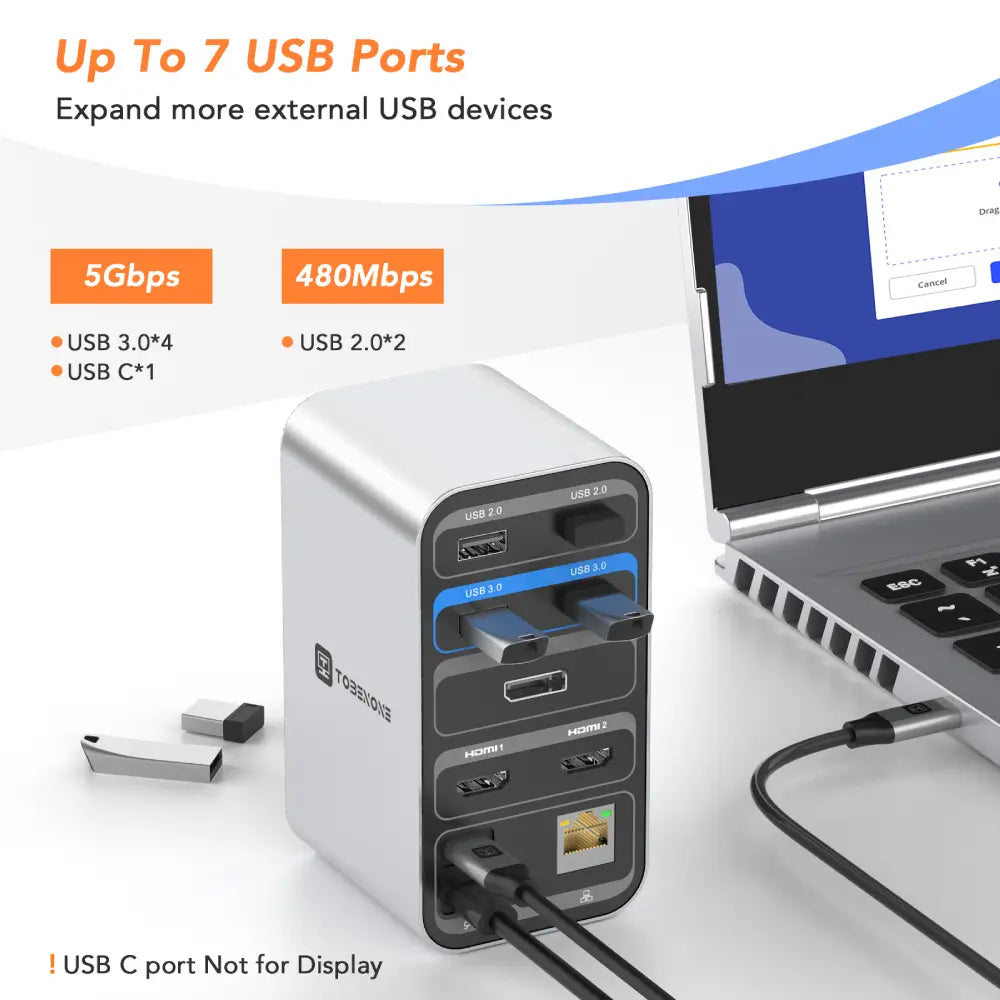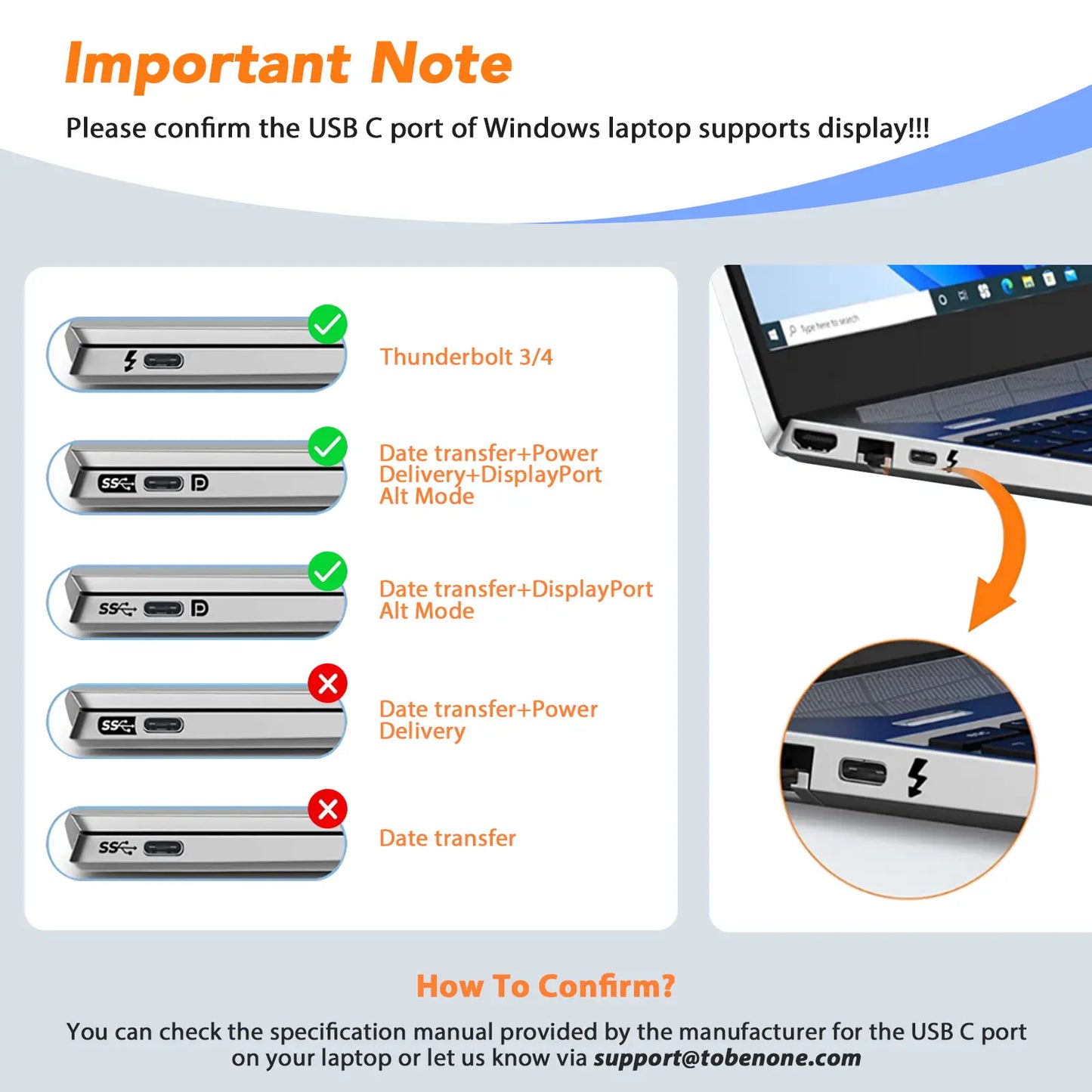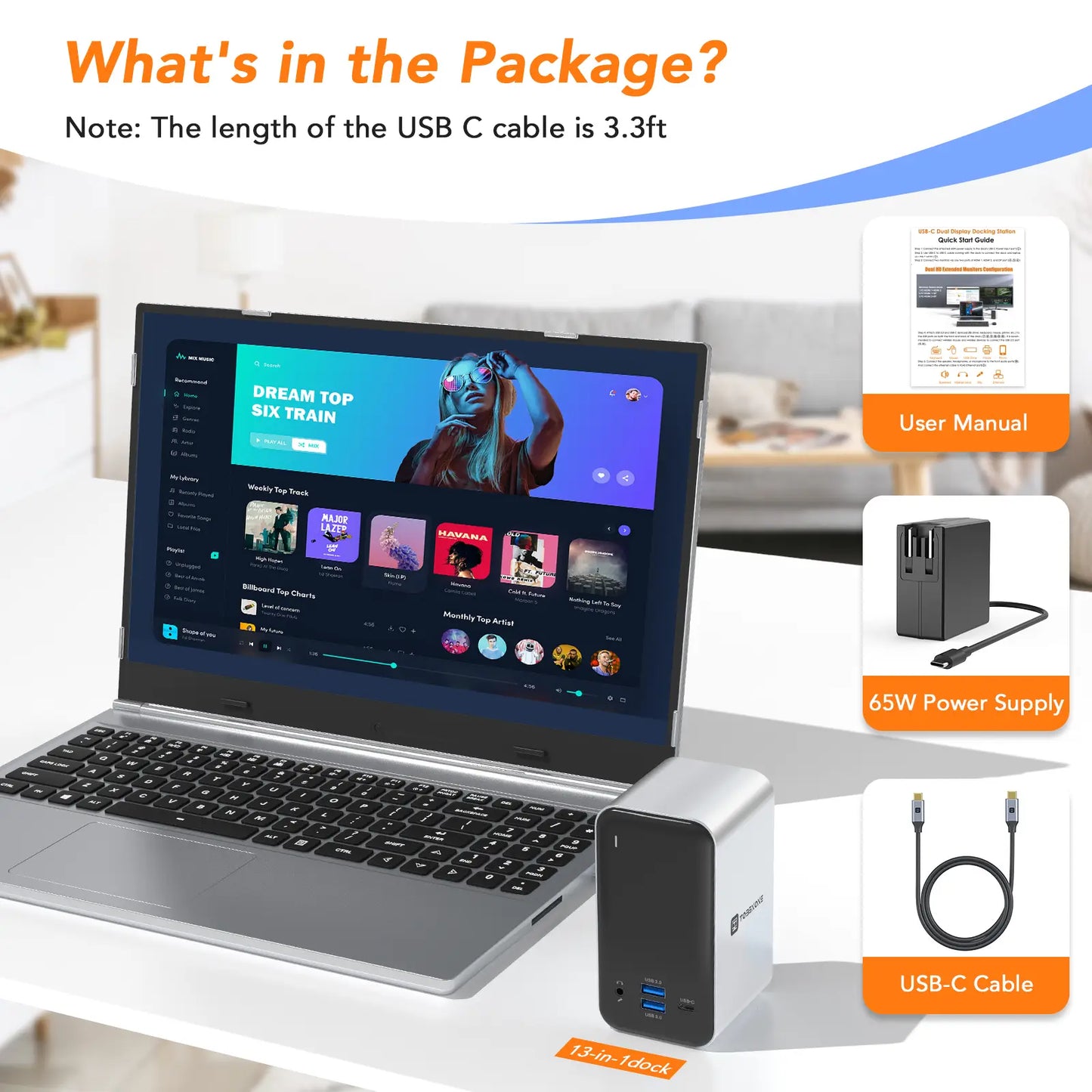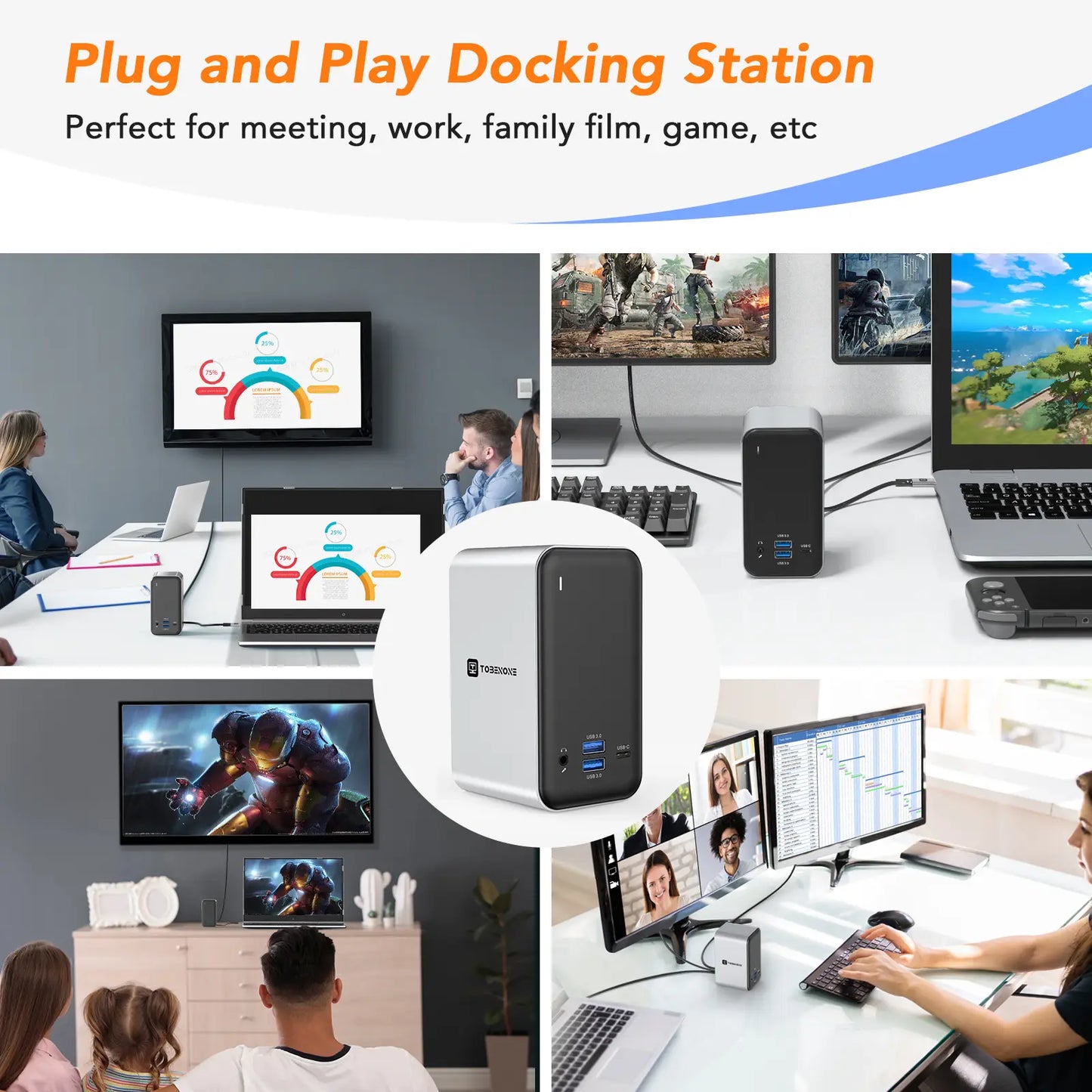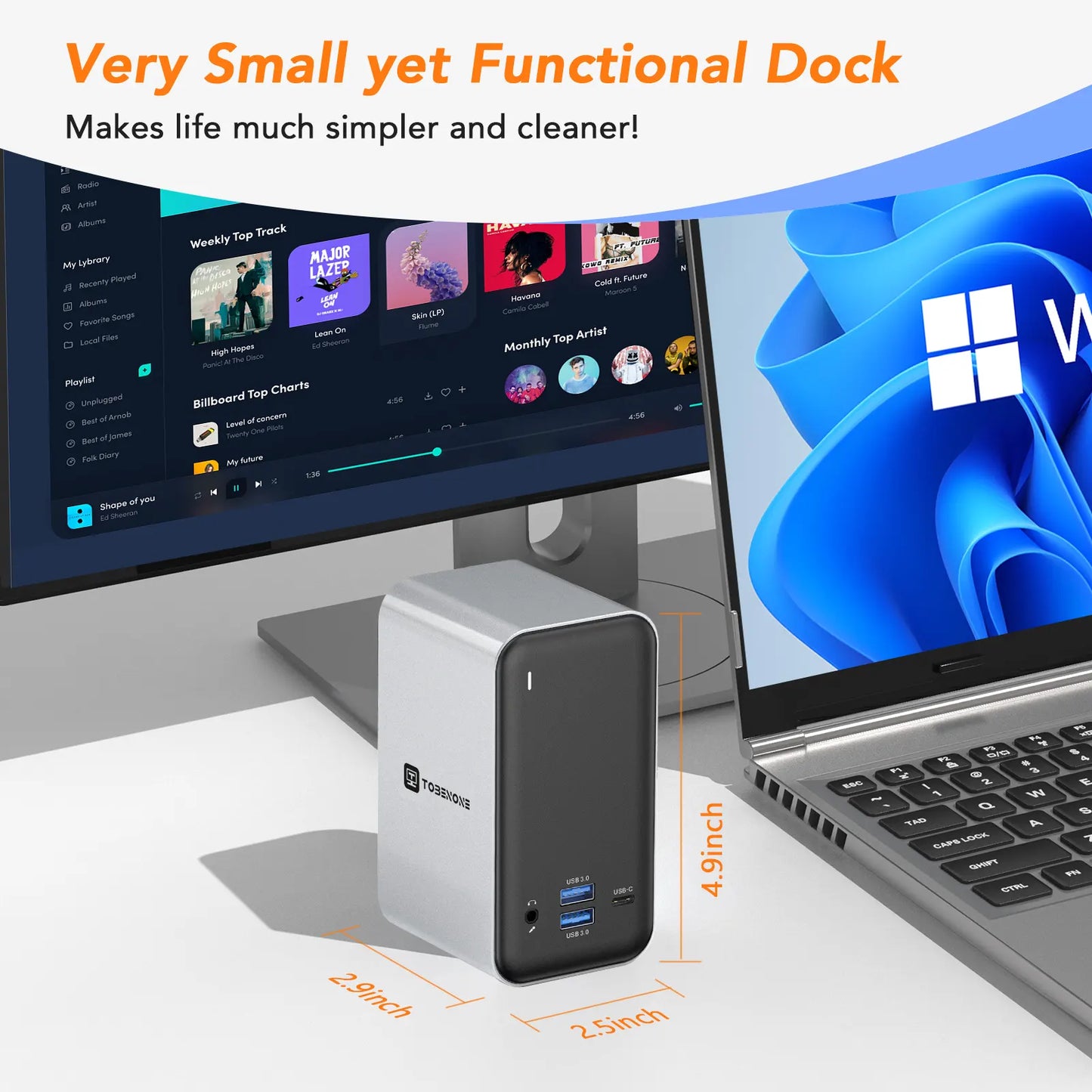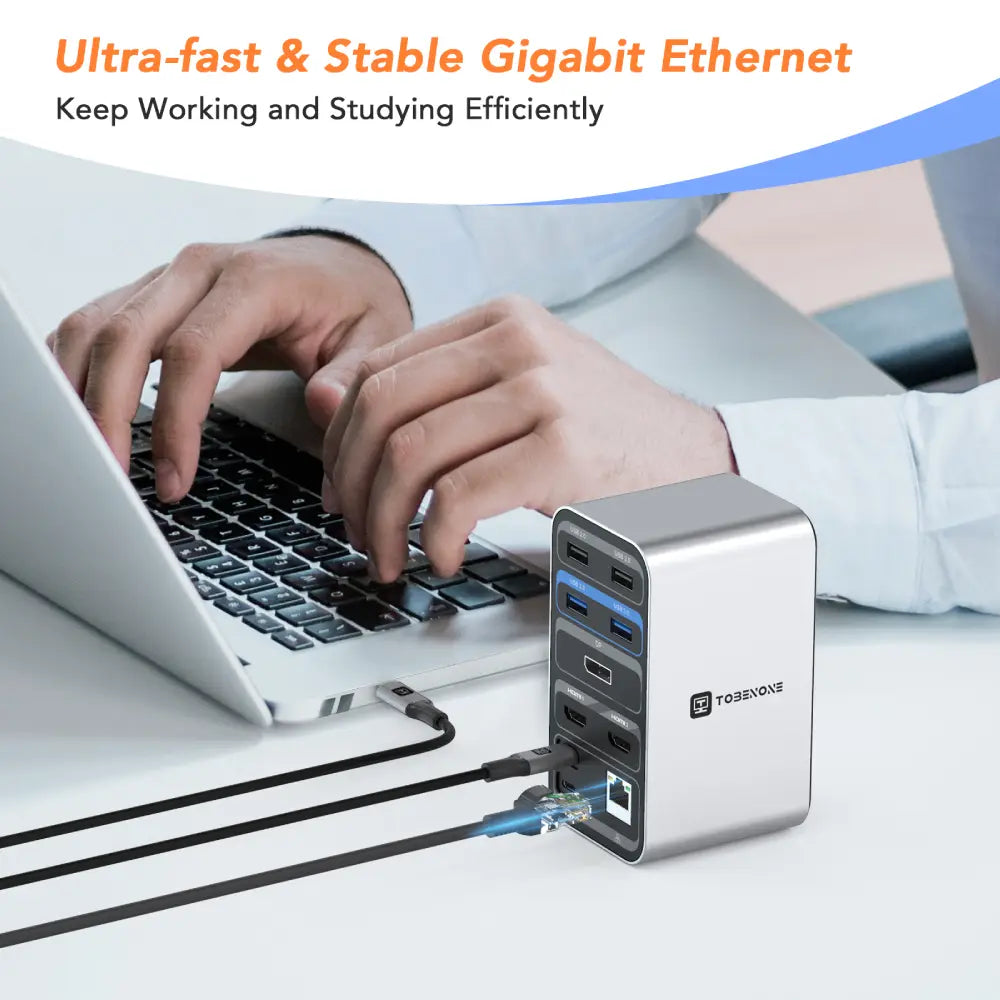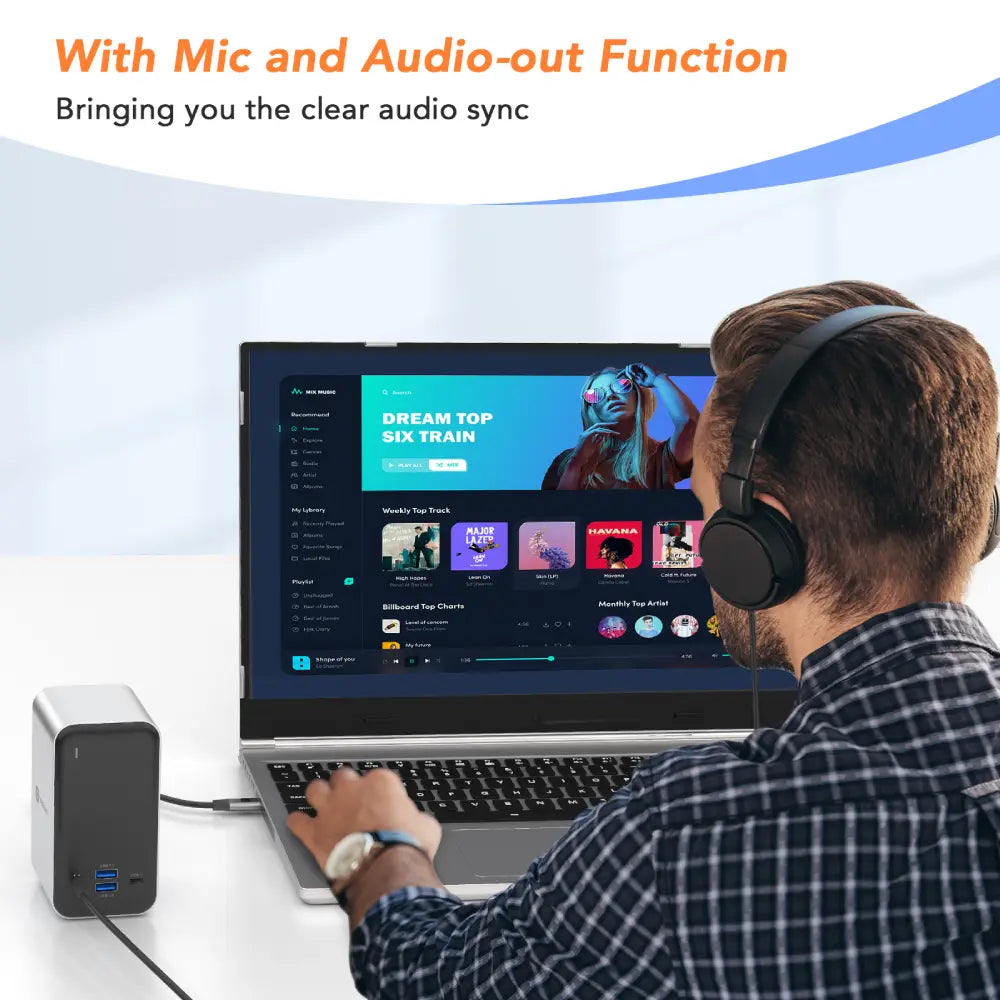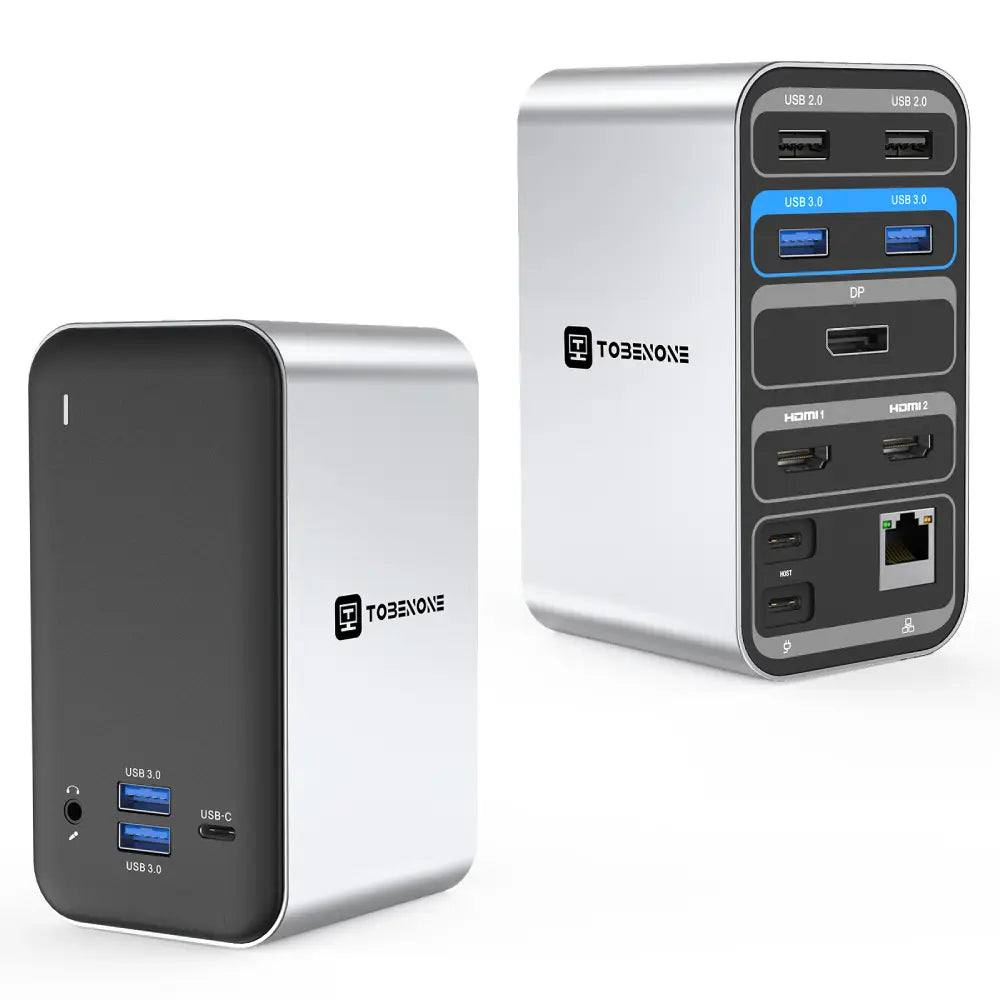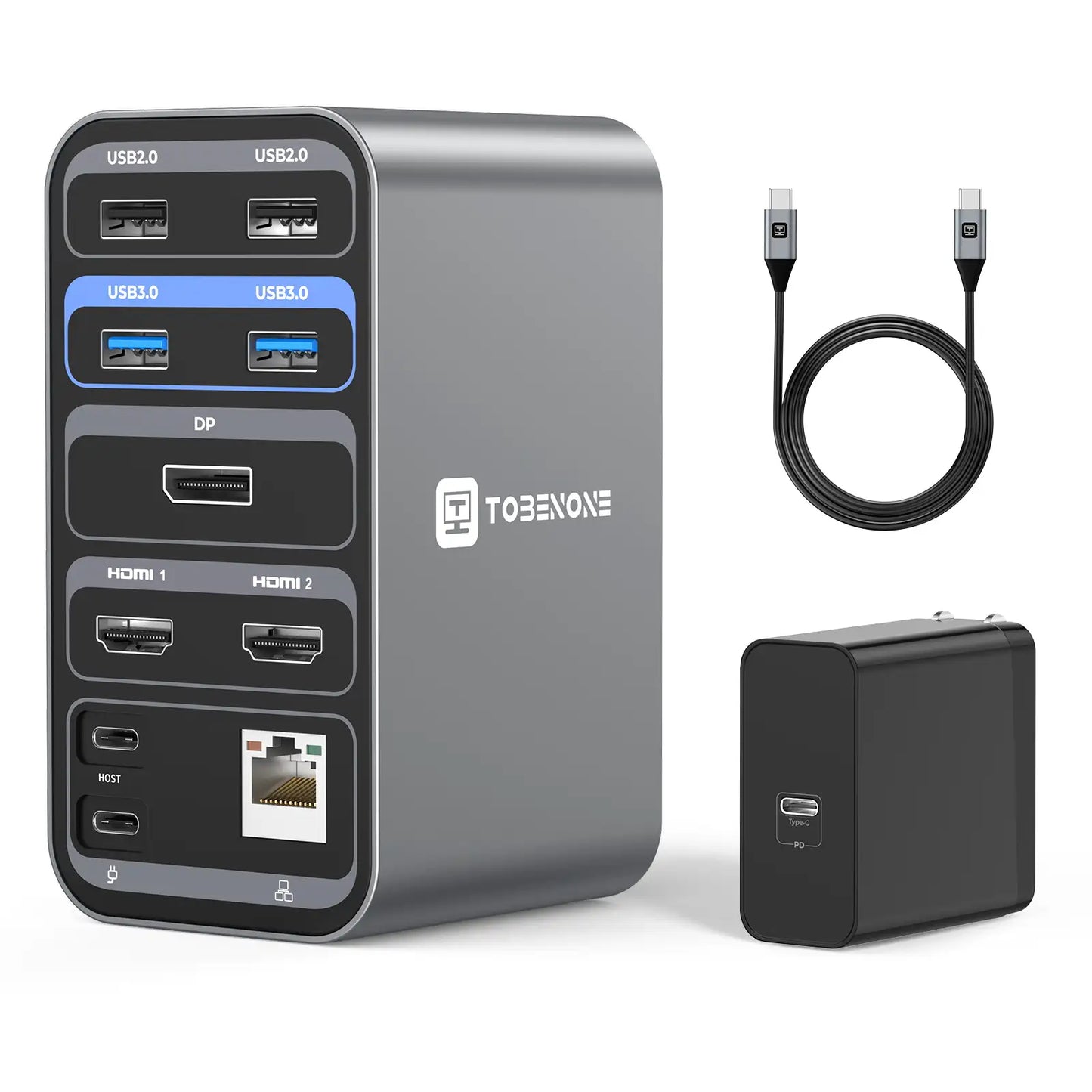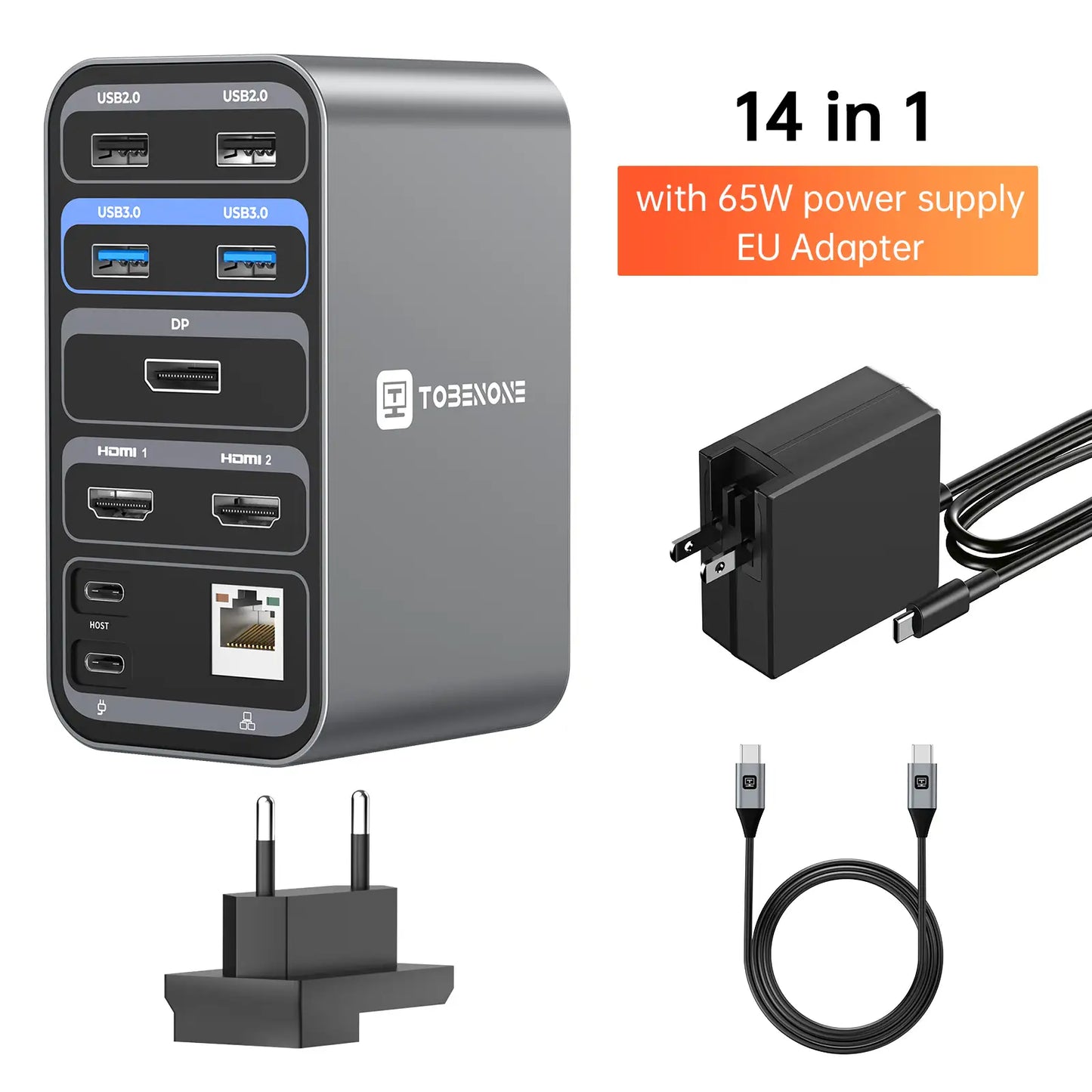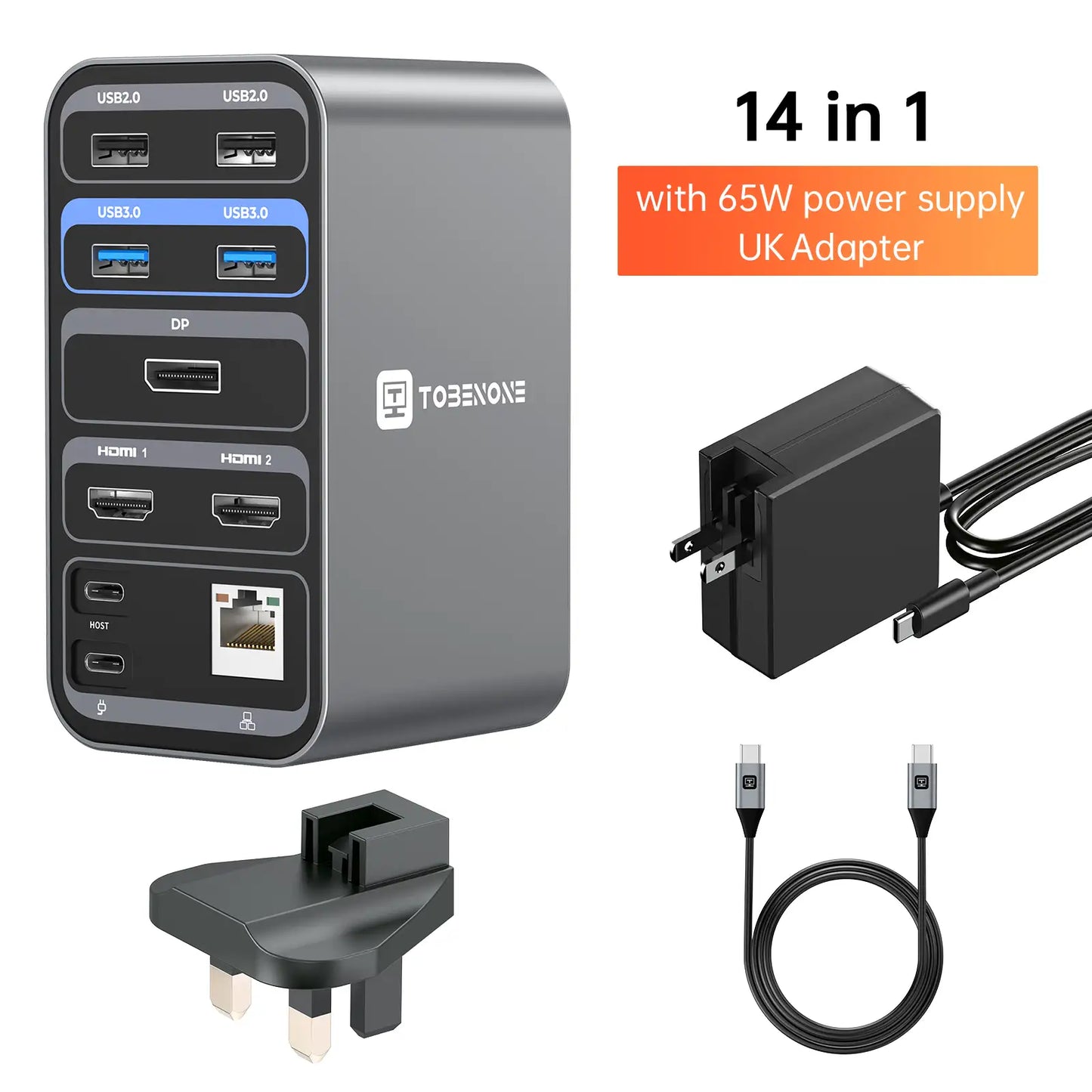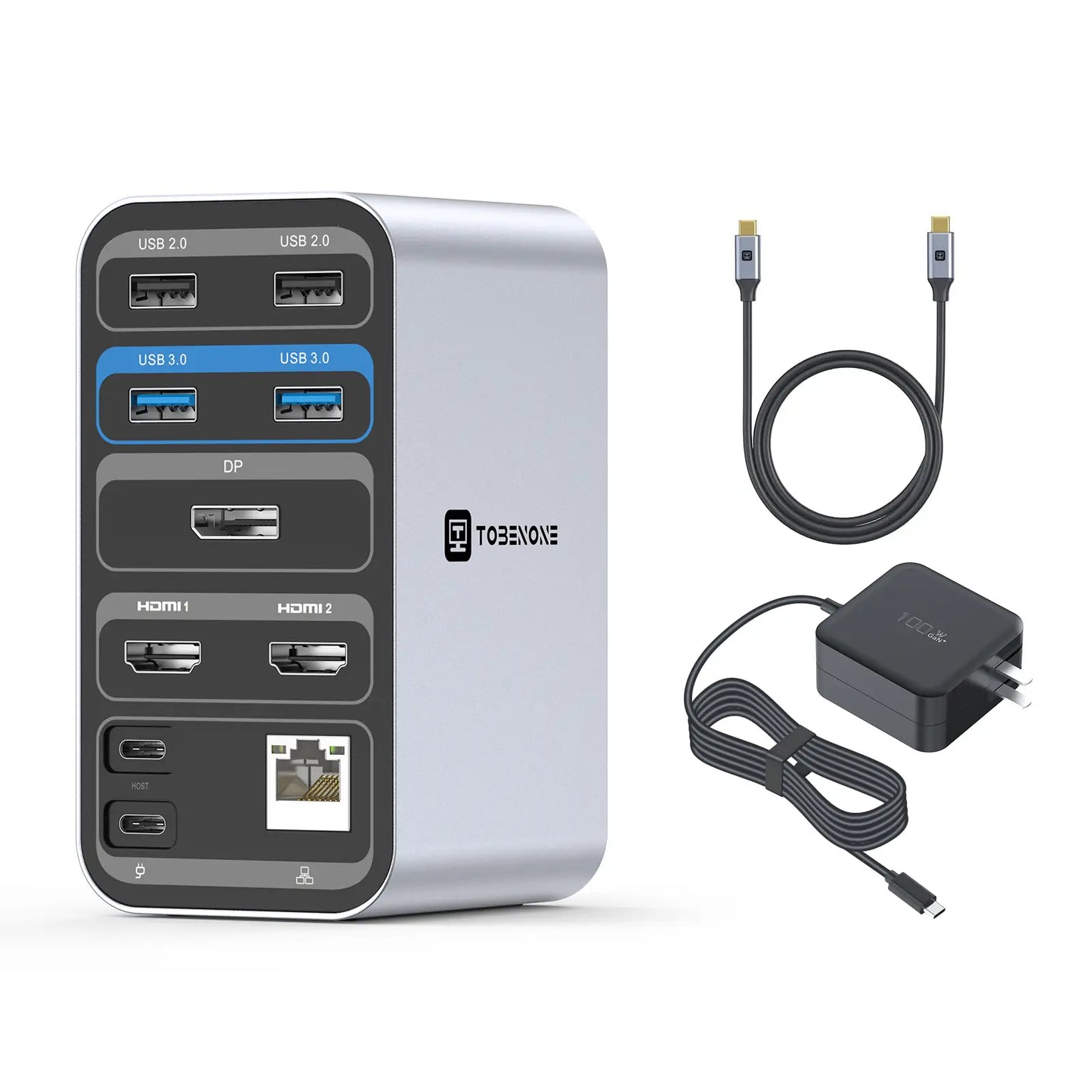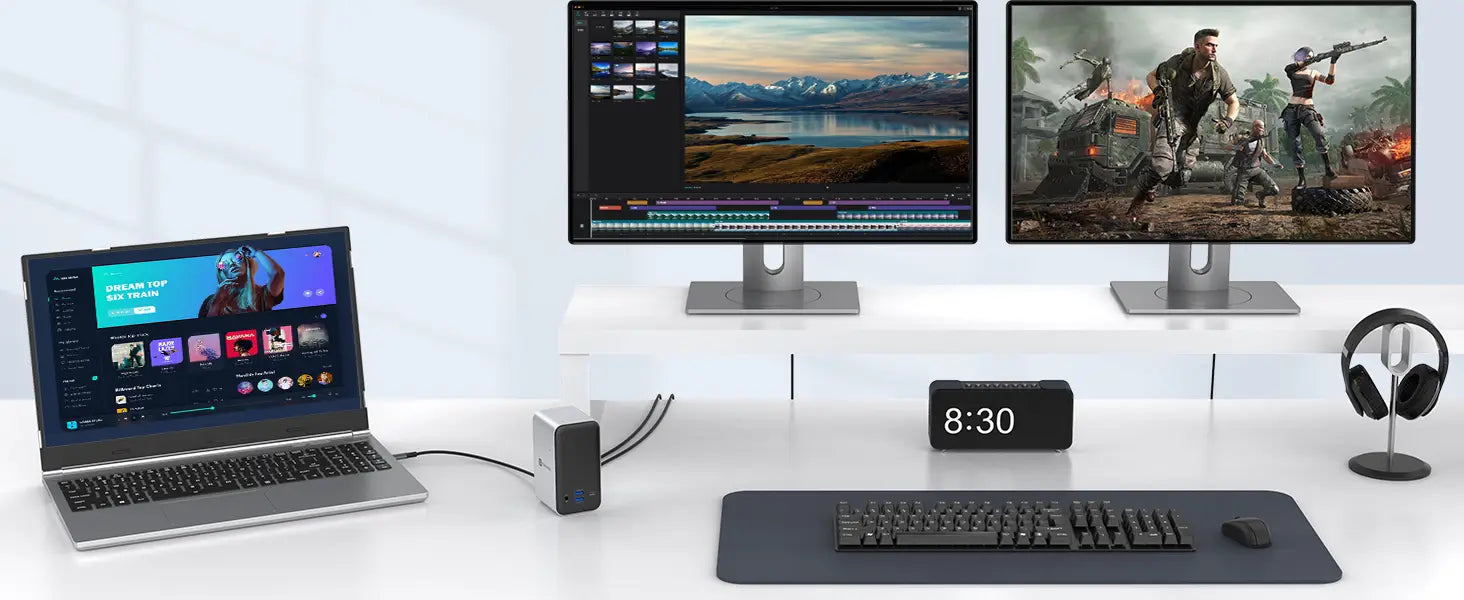 TOBENONE Plug-and-Play USB C Dock
This sleek, lightweight, compact TOBENONE pc docking station with power supply is a great desktop accessory for your home office and office. It can perfectly meet your daily needs for connecting external devices and improving your work or study productivity.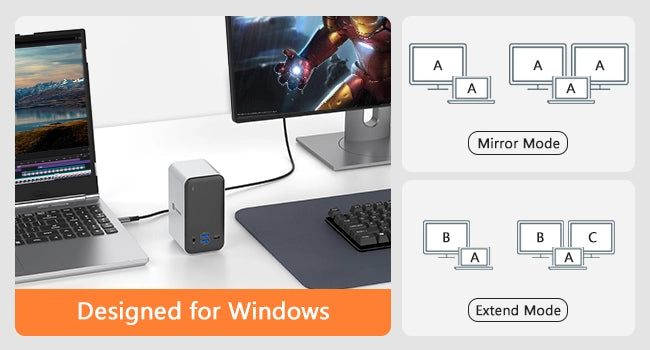 Designed for Windows
This docking station for laptops supports MIRROR mode or EXPANDED mode to HDTV, monitor, or projector. Then stream movies, presentations, or video games on your monitors.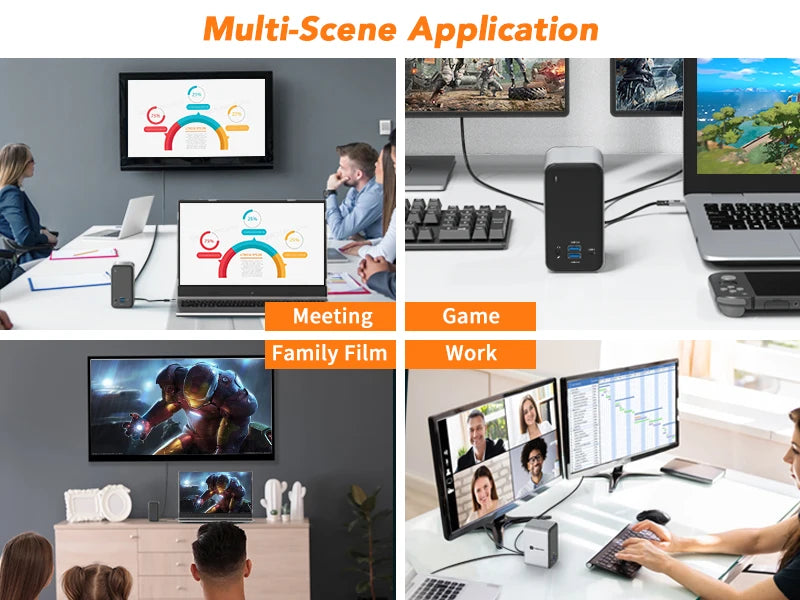 Multi-Scene Application
All-in-one hub to connect everything that you normally would require in a work or personal setup. The DisplayPort docking station hp is fully plug-and-play! You can easily switch the work scene. If you have to bring your laptop from home to the office or switch laptops. Plug in one cable and monitor and all your peripherals are ready to go.