Regular price
$89.99
Sale price
$79.99
Unit price
per
Sale
Sold out
Purchase Notes

1. only can extend one monitor for your USB-C laptop.

2. Please ensure the USB C port of your laptop supports DisplayPort Alternate Mode before purchase.
Compatibility

USB C Laptop Dock Stand Compatible List(NOT a full list):

For HP: HP EliteBook 1040 G4/EliteBook 830 g6/Elitebook 850 g5/Elitebook 840 G5 series/2018 Elite 800 G4/Elitebook 745 g6/ Elitebook x360 1030 G3/Elitebook X2/Spectre x369/Spectre x360 13t/15/15t/Spectre 360/Spectre Folio (13t-ak000cto)/Envy x360 Laptop (15z-ds100)/Envy Geforce mx250/Envy x360 15-ds1063cl/ENVY 13 (13-ad000,13-ad100) Series/ENVY Laptop 13-aq1;Zbook 17 G4/Zbook 16 G6/Zbook 15u G3/Zbook studio z5;ProBook 450 G7/Probook 440 G;HP Chromebook 14A G5/HP Chromebook-14-db0030nr;Omen laptops;

For Dell: Dell New XPS 15 i7 64GB 2TB SSD/XPS 15 9570 (Intel 8th Gen CPU)/9550/ 9560; Dell XPS 13 9380/ 9370/ 9365/ 9360/ 9350/ 9300/ 7390 2-in-1/ 7390; Dell XPS 12 2-in-1 9250; Dell Precision 7750/7730/7720/7520/7510/5510/Laptop 5590; Dell Latitude 7280/5580/5490/5480/5285/5290 2 in 1; Dell Latitude E7490/E7480/ E7470/E7370/13 E7370L/13 7000/Latitude 5310 2-in-1/Latitude 14 2-in-1 3400; Dell Alienware 15 R3/G7 15 Gaming 7588/G5 15 Gaming 5587/13 R3; Inspiron 15 2-in-1 7569/13 2-in-1 7389/13 2-in-1 7378;

For Lenovo: Lenovo Thinkpad T590/Lenovo ThinkPad L480/Lenovo Yoga 940-14IIL / Yoga 930/ Yoga 920/ Yoga 910/ Yoga 900-13ISK/ Yoga 730/ Yoga 720-13IKB/ Lenovo Yoga 720/ Yoga 370/ 3rd generation Thinkpad Yoga/ Yoga C930 / Yoga c940/ Yoga C740-15IML/ Yoga 7i / Yoga15 Ultrabook Pro ; Thinkpad T490/ Thinkpad T490s/ Thinkpad T470/ Thinkpad T470s/ Thinkpad P72/ Thinkpad X1 Carbon (2019 model) / Thinkpad Carbon X1 Gen6/ ThinkPad X1 Extreme;

For Asus: Ling Yao 3/ Ling Yao 3PRO/ Ling Yao X Series/ 13'' Zenbook/ UX330UA; Zenbook ux434f/ Zenbook flip ux370u/ ZenBook Flip 14 UX461UN-DS74T/ TUF Gaming A15 Gaming Laptop/ Zephyrus G14/ Rog GX501For Acer: aspire5 2019 / d17w3 aspire c24-865 / swift 7 sf714-52t-75r6 laptop / Swift 1 laptop / Spin 5 SP513-52N-52PL / Chromebook 11 CB311-8H-C5DV;

For Surface: Microsoft Book 2 / Go / Laptop 3; Pro 7 / Pro 5 / Pro X;

For macOS: MacBook Air (Retina 13-inch) 2018/2019/2020//2021/2022, MacBook Pro 13inch 2016/2017/2018/2019/2020/2022, MacBook Pro 14inch 2021, MacBook Pro 15inch 2016/2017/2018/2019, MacBook Pro 16 inch 2019/2021
Description

USB C docking station stand: TOBENONE USB C docking station for USB C macOS and Windows laptops is equipped with 4K HDMI, 2 USB 3.0(up to 5Gbps), USB C PD 3.0 port (support max 100w input or 5Gbps data transfer), and RJ45 wired Gigabit Ethernet port. The USB C dock stands perfectly combine the function of a USB C dock and a laptop stand, making it the best choice for your USB C laptop with more features and possibilities.

Universal Dock with 4K HDMI Hub: You can use this TOBENONE laptop stand with USB C hub to mirror or expand your MacBook or Windows laptop to a larger high-resolution display. The resolution can reach up to 4K UHD (3840x2160@30Hz) via the HDMI port, perfect for those who need to deal with Ultra HD image and video output tasks. Please note: please ensure the USB C port for your laptop supports DisplayPort Alt-mode before purchase.

USB C dock with power delivery 3.0 adapter: This MacBook Pro dock with USB Type C 3.0 not only supports up to 100W power input and offers max 87W power charging but also supports data transfer rates up to 5 Gbps for your USB C laptops. Please note: the charging and data transfer functions of this USB C port cannot be used at the same time.

SuperSpeed data transfer dock: The portable laptop dock stand with 2 USB 3.0 ports supports data transfer rates up to 5 Gbps, allowing you to transfer files quickly. Also connect a keyboard, mouse, or hard drive to your MacBook Pro, MacBook Air, Dell, and HP laptops without any lag.

5 Levels adjustable laptop stand: The laptop docking station stand for MacBook Pro, MacBook Air, and Windows laptop features 5-level to adjust the height, allowing you to choose the perfect angle for your posture and body type. It helps you to release the tension of your neck pain, back pain, and eye fatigue making you work comfortably and keep healthy.

Heat dissipation USB C dock stand: The excellent bottom design and aluminum materials add more air convection to the laptop on the stand, which helps the laptop dissipate heat, prolong the service life of the laptop, and make the laptop work more efficiently.

Portable and lightweight docking station: This USB C hub multiport adapter is compact and lightweight, it can be folded to the size of 9.4*2.3 inches and is only 20.8 ounces lightweight. And this MacBook Pro docking station stands also comes with a portable storage bag it is so perfect to carry when you have a business trip or traveling.

Wide compatibility dock: This universal docking station is compatible with full-feature USB-C laptops. USB C dock stand is compatible with most laptops under 16 inches, such as MacBook Pro 2016/2017/2018/2019/2020/2021/2022, MacBook Air 2018/2019/2020/2021/2022, Dell Latitude 13, Dell XPS13/15, HP Spectre, Lenovo Yoga 720/910, Microsoft Surface Book 2, Surface Pro 7, etc. Please ensure the USB C port of your laptop supports DisplayPort Alternate Mode before purchase.

This laptop docking station stand with USB C hub is plug and play, with no need for any drivers. Simply plug the included 3.3ft USB C cable into your MacBook Pro or Windows laptop's USB C / Thunderbolt 3 / 4 port to extend your laptop's display, which is very convenient.
Specifications

MODEL NUMBER: UDS029

DRIVERS

Plug and play, no driver needed.

FEATURES

1 x RJ45 Ethernet Port: Supports 10/100/1000 Mbps

2 x USB 3.0 Port: Support data transfer at speeds up to 5Gbp/s

1 x HDMI Port: Connect to a device with an HDMI port to stream video at resolutions up to 4K 3840×2160@30Hz

1 x Type-C 3.0 Port: Charger your laptop through the Type-C port, support 100w power delivery. Support data transfer at speeds up to 5Gbp/s

1 x Type-C Host: Connect to your Full-feature USB C laptop

DIMENSIONS & WEIGHT

9.5 x 6.9 x 0.61 inches, 1.25 pounds

QUICK GUIDE

PACKAGE INCLUDES

1 X UDS029 USB C Hub Stand

1 X USB C cable

1 X Flannel Bag

1 X Package

1 X User Manual

GUARANTEE

2 Year Warranty
FAQ

Q: is it stable when I put my surface pro 8 laptop on the laptop docking station stand?

A: Yes, this usb c hub is very strong and can bear 22 lbs on it. my laptop is very heavy, but it can load stably without any problems.
Troubleshooting

If you have any questions, please let us know via support@tobenone.com.
30-Day Returns • 2-Year Warranty • Free US Shipping
Share
View full details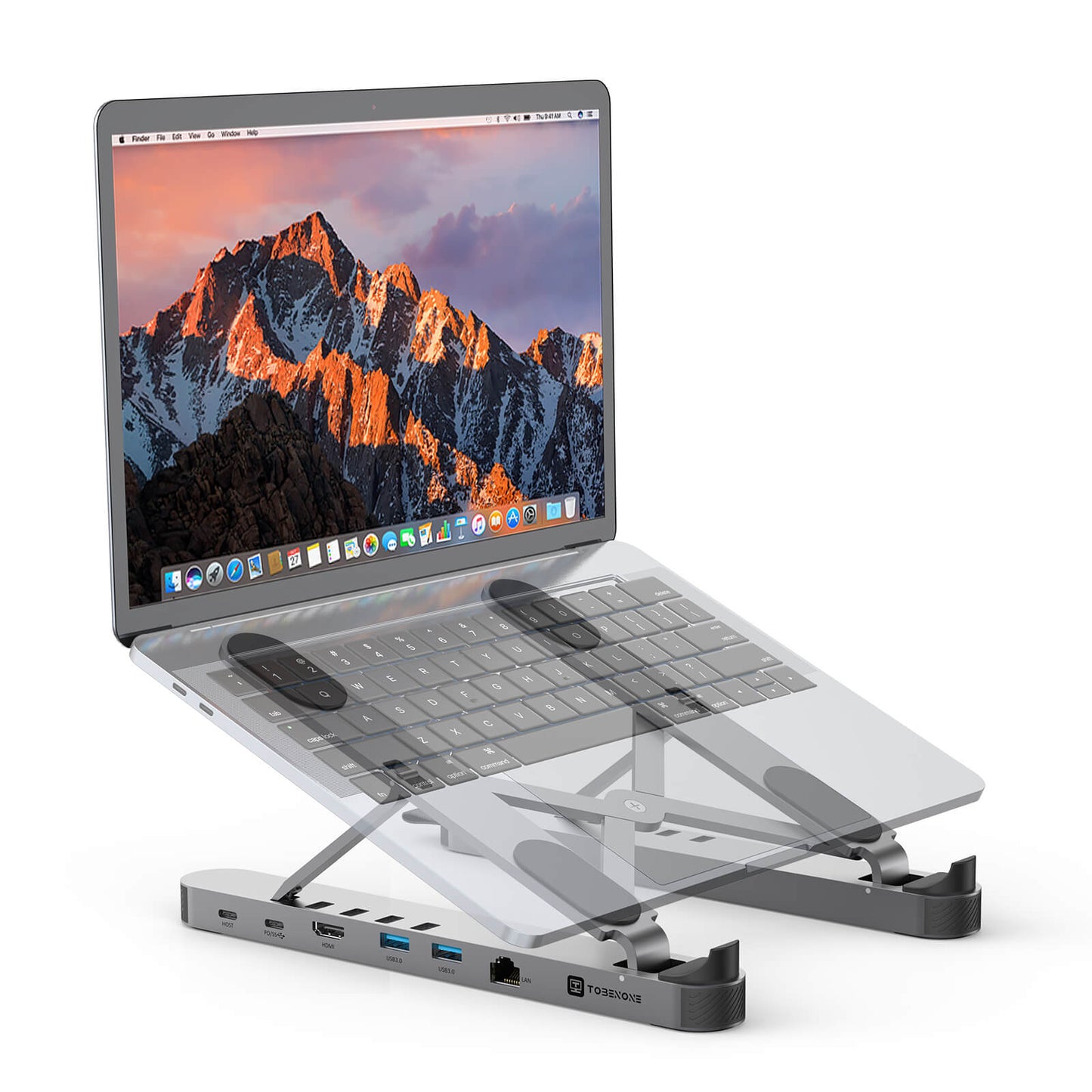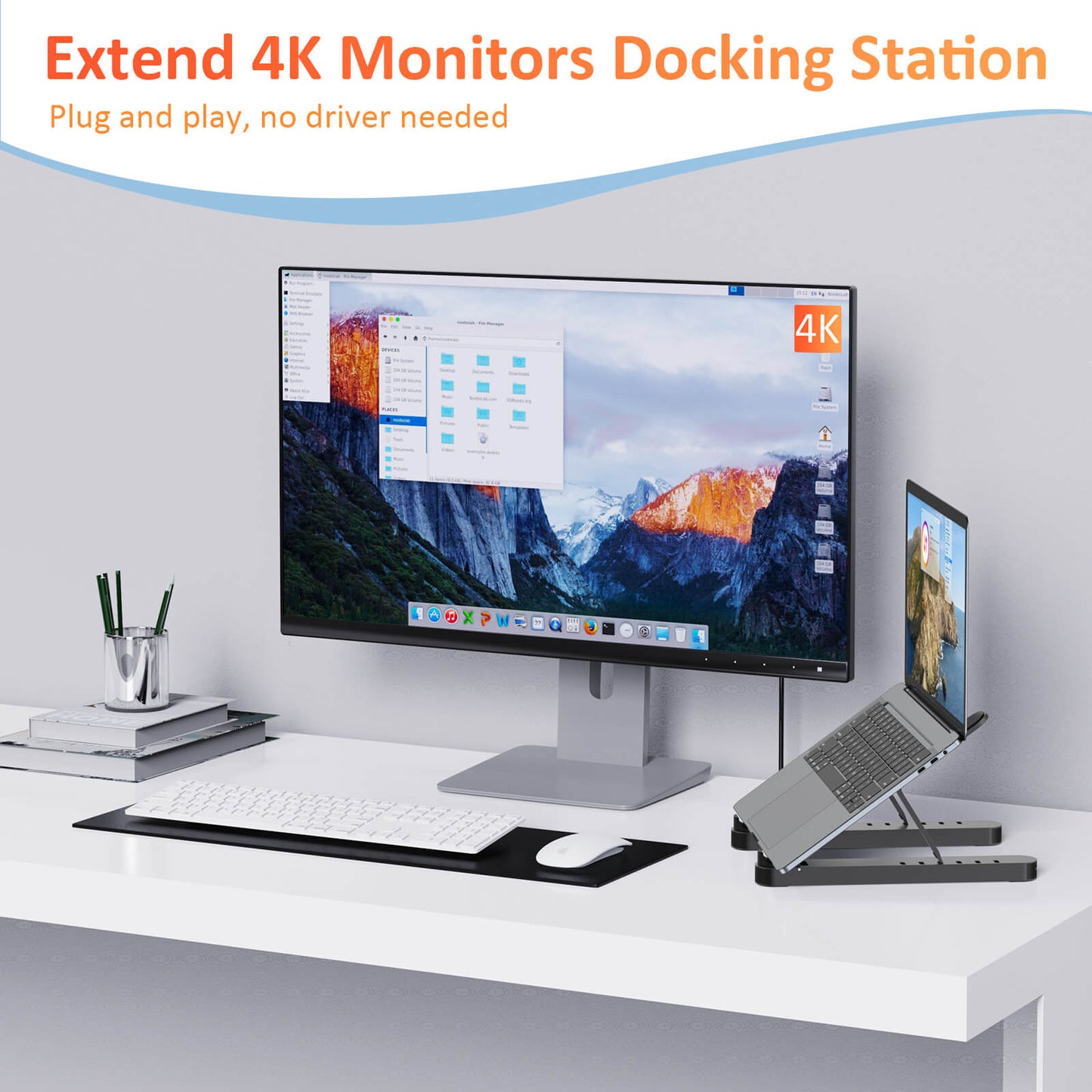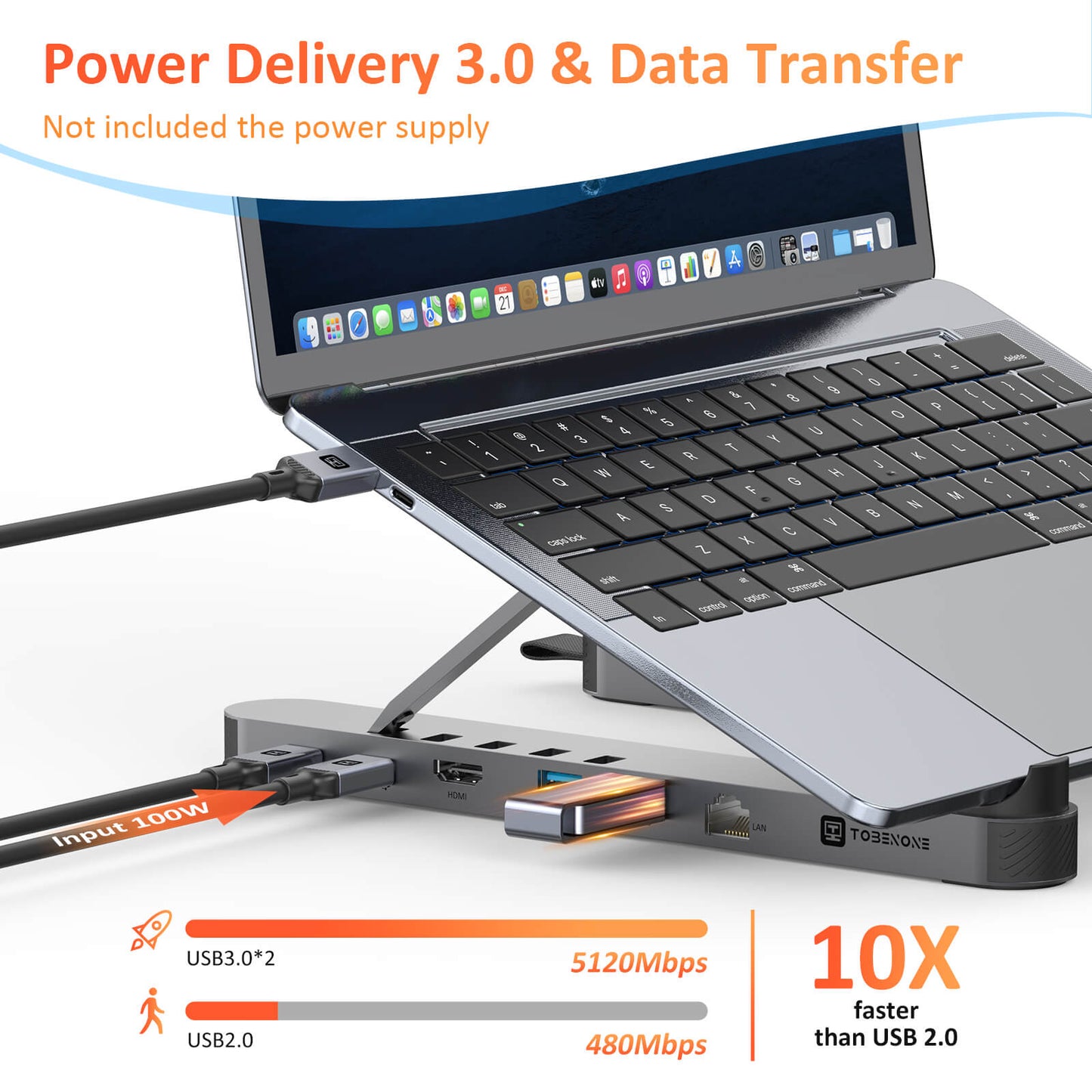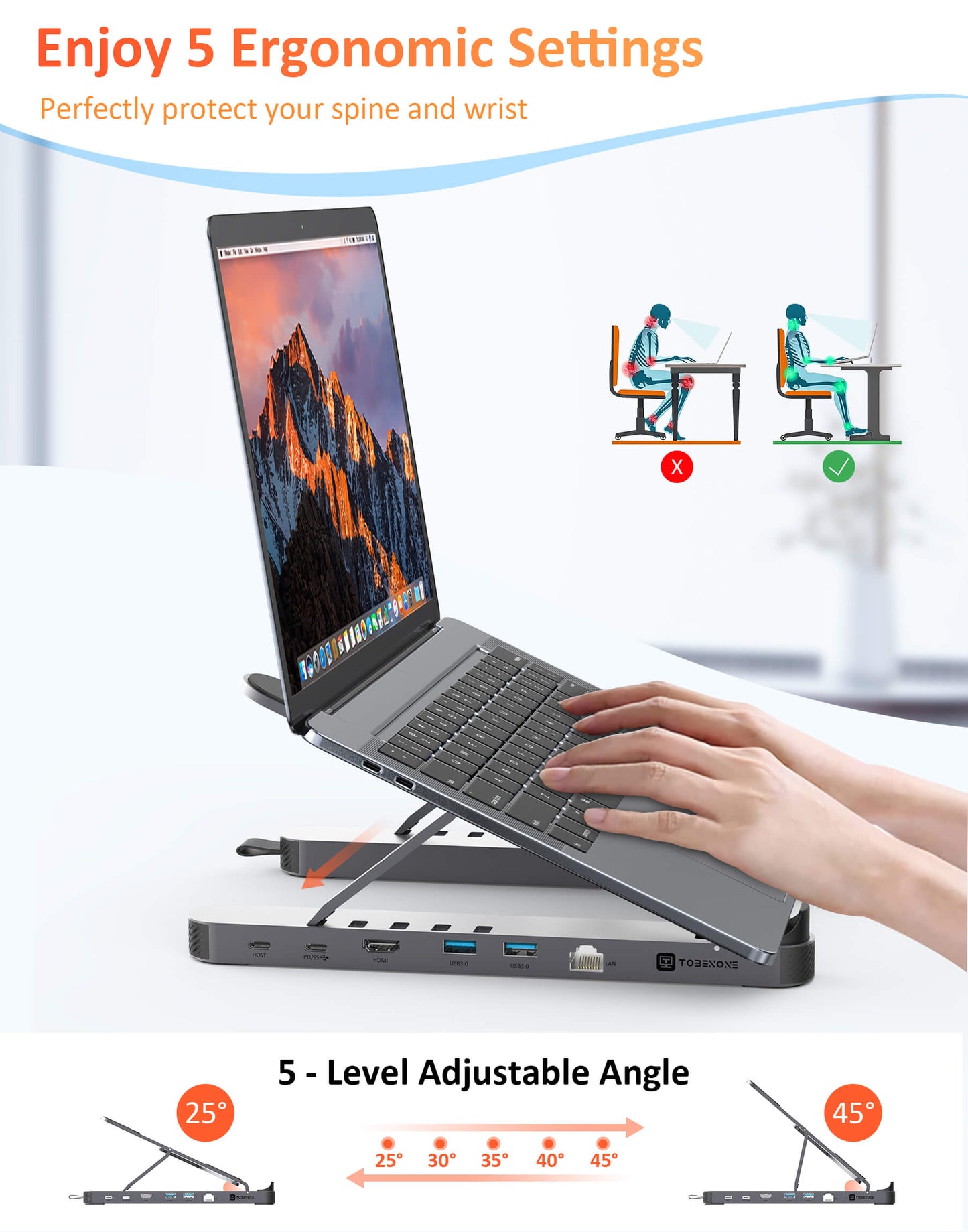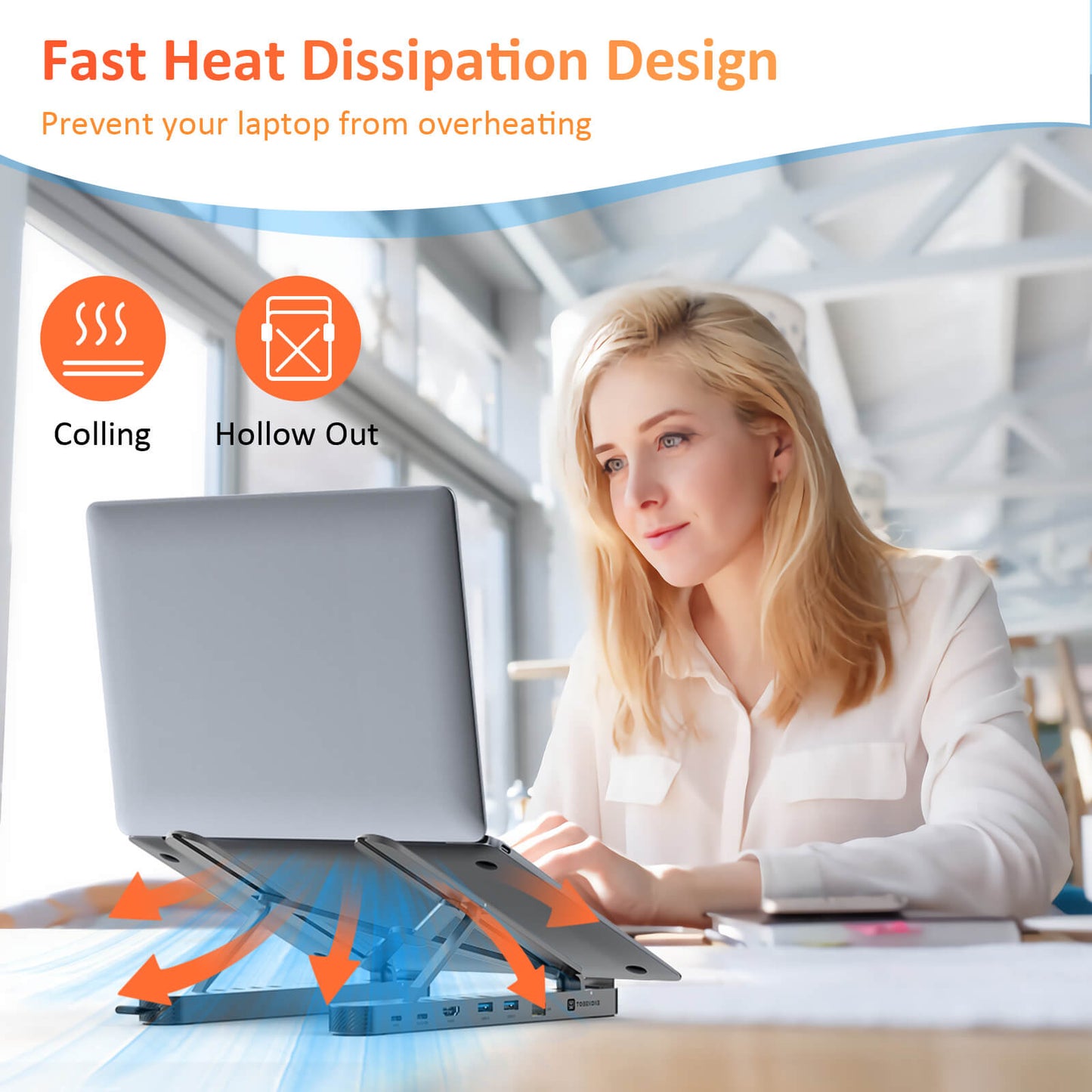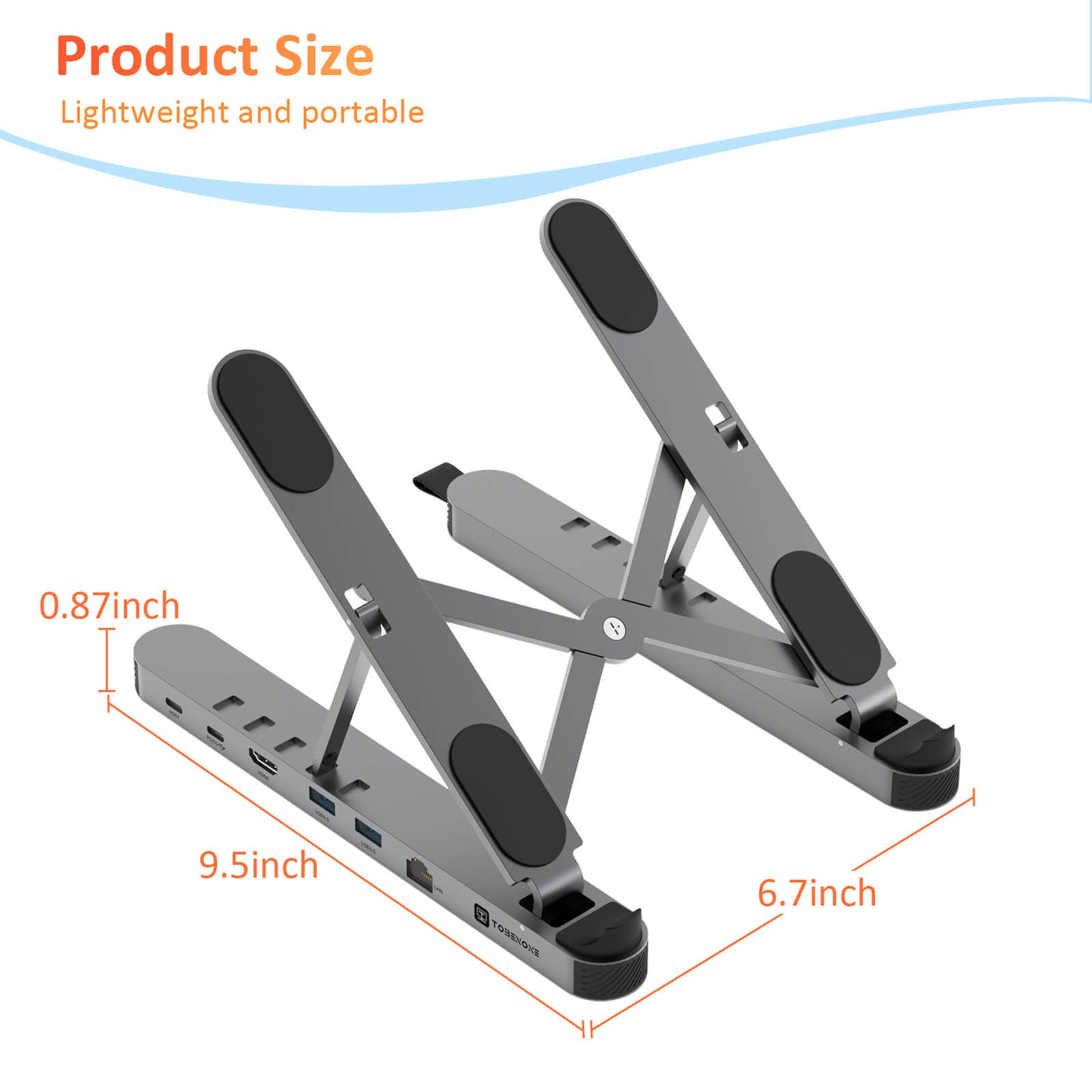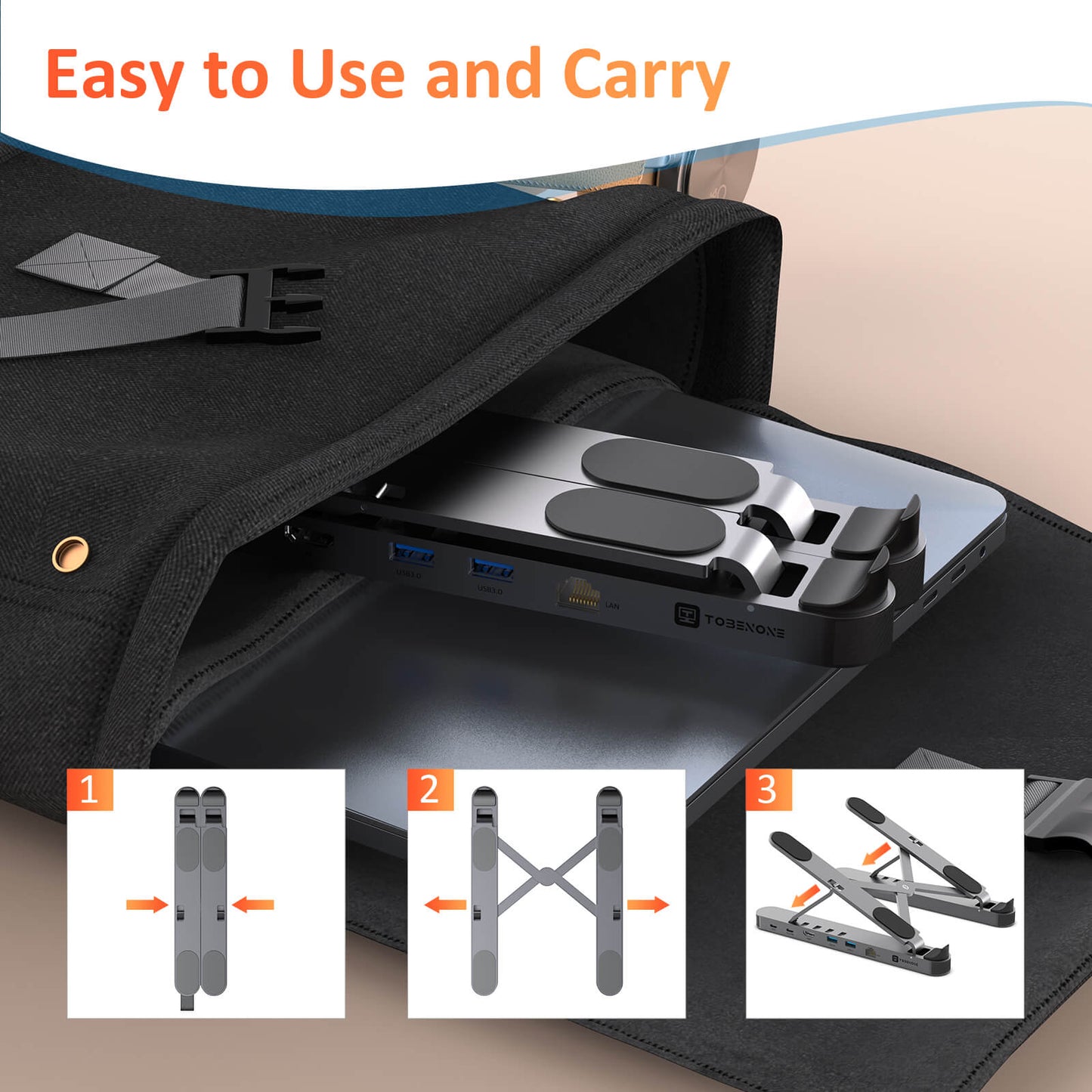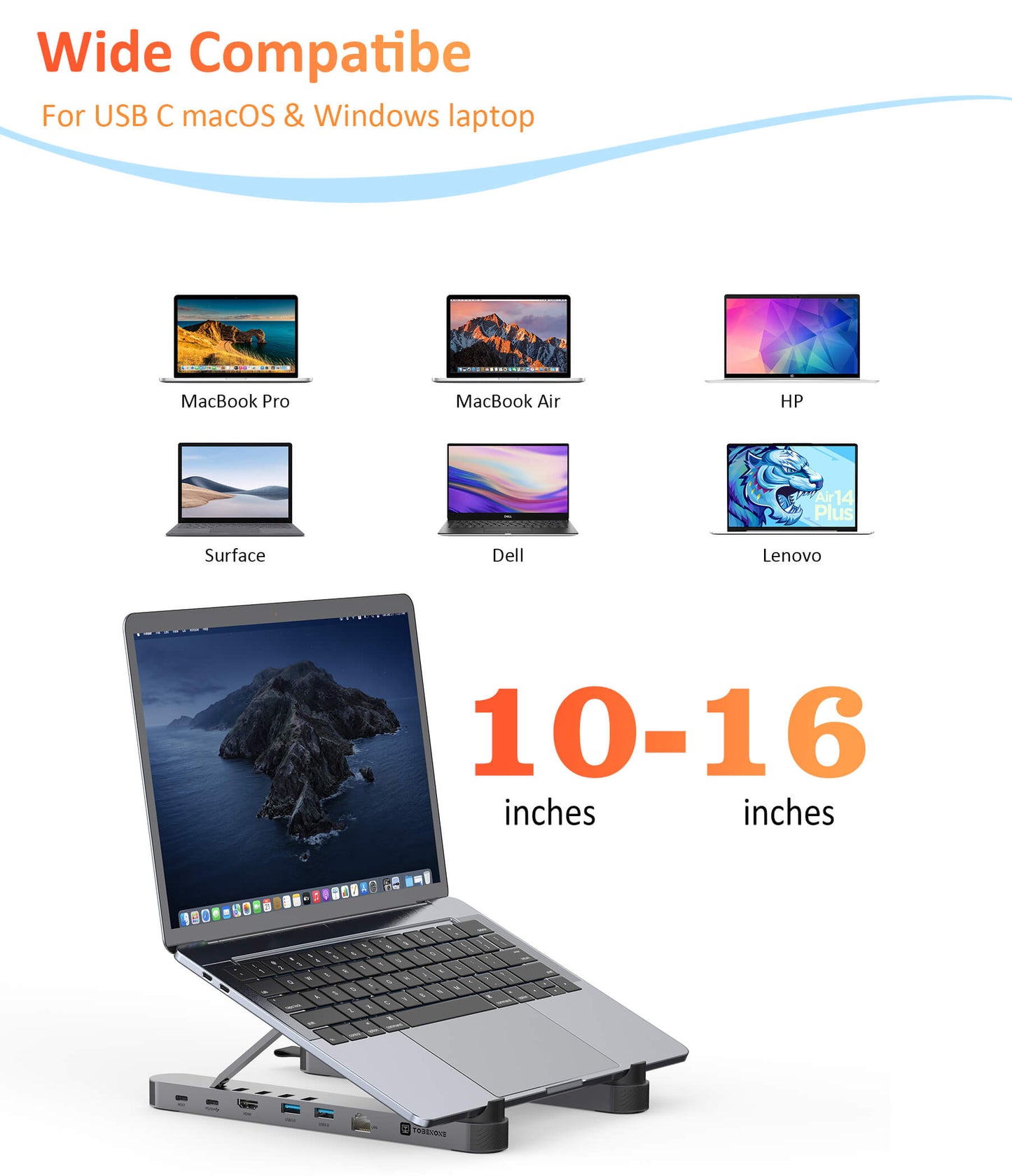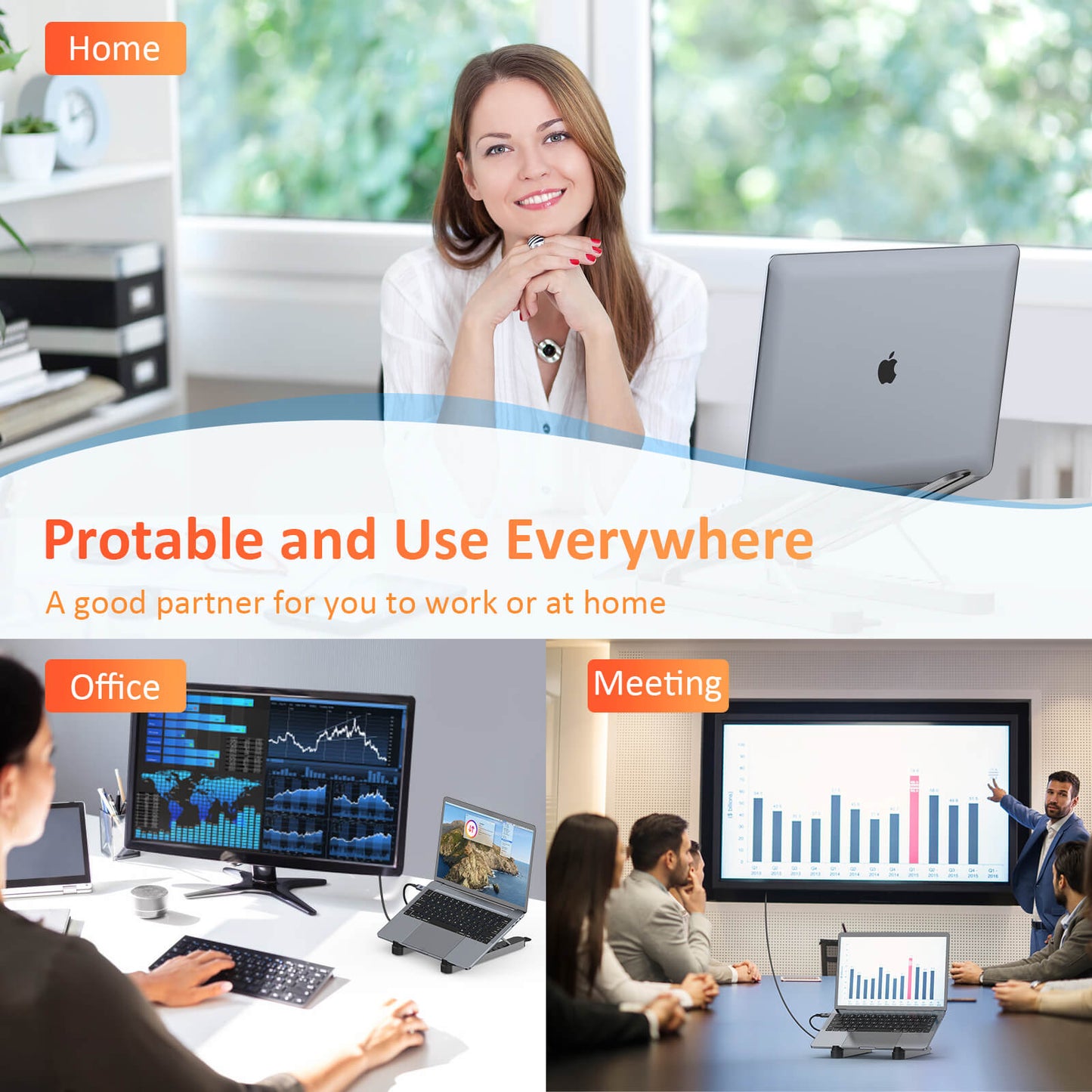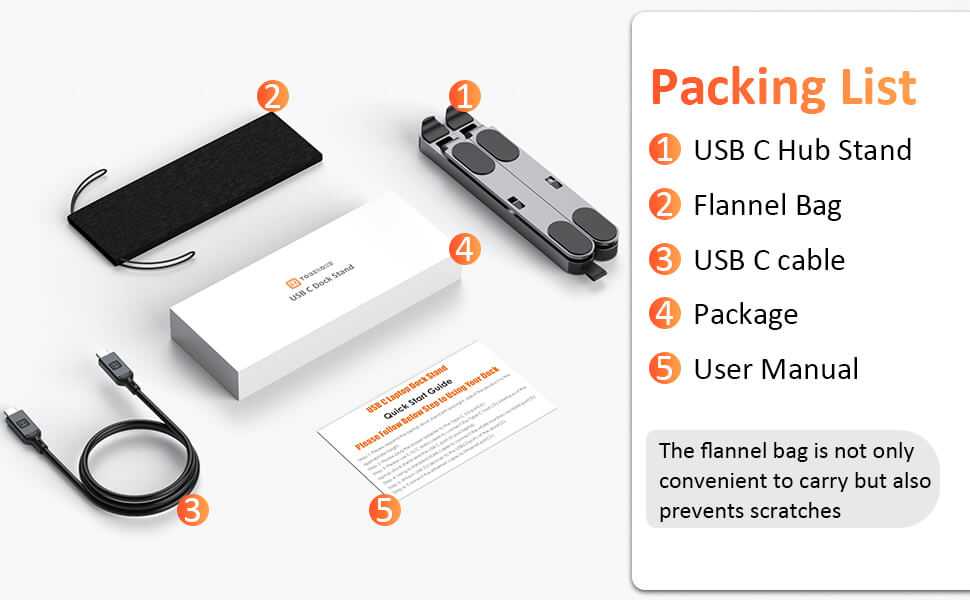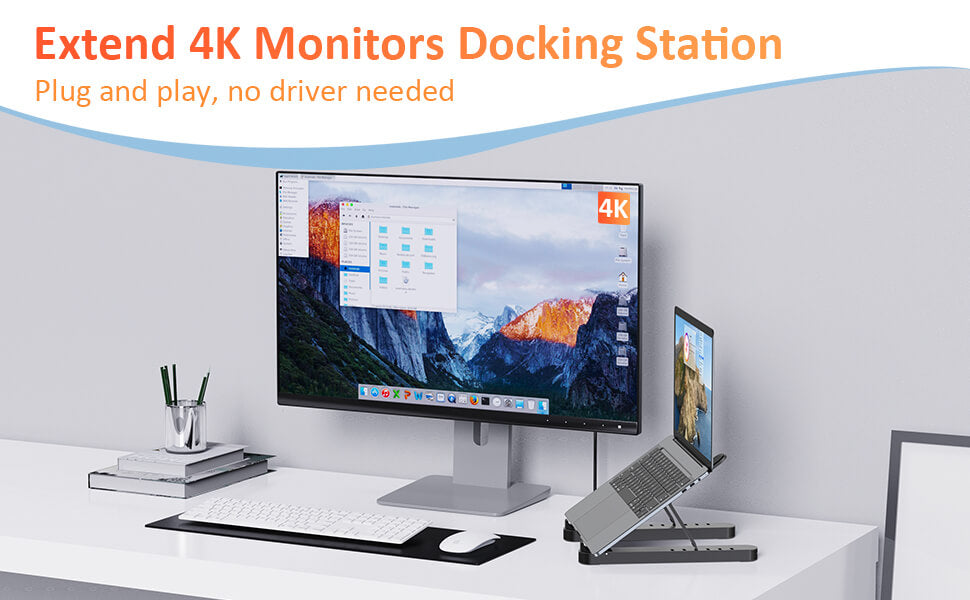 Plug And Play USB C Dock & Laptop Stand
This is a new innovation and design carried out by the TOBENONE team according to market demand: combining the USB C docking station and laptop stand is the best choice for your MacBooks and Windows laptop, with more features, and more possibilities.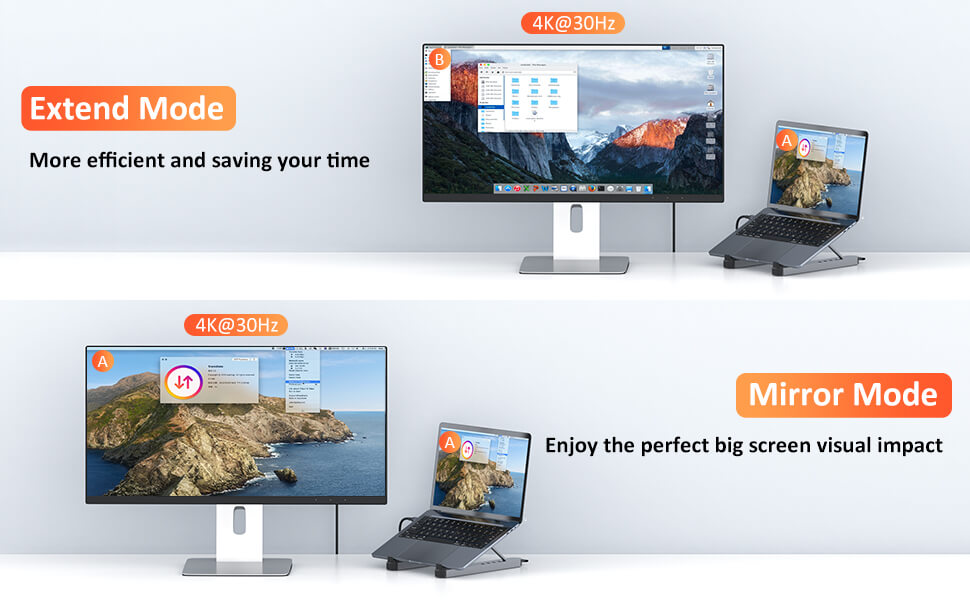 4K High-Resolution USB C Hub
The USB C hub multiport adapter with HDMI 4K@30Hz is designed to provide you with clear visual enjoyment and extend or mirror the screen for your laptop. Wherever you are, just connect it to other screens to present your content in a bigger and better way.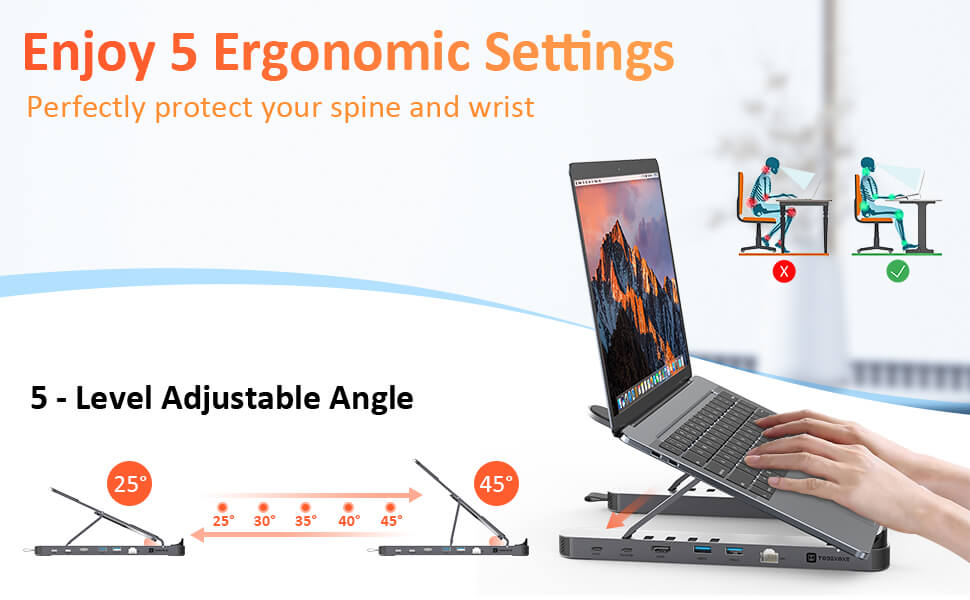 Enjoy 5 Ergonomic Settings
The USB C dock stands for MacBook and Windows laptops elevate your USB C laptop screen to the perfect line of sight with 5 adjustable angles (between 25-45 degrees) while you work or study. Find the best ergonomic posture to help relieve neck pain, back pain, and eye strain so you can work comfortably and stay healthy.